Bahrain is mostly famous for its historic, religious, archeological sculptures, scientific and modern inventions. The total population of Bahrain is 1.5 – 1.6 million but the total no of tourist visits is 11.6 million and it is estimated 15 million in 2020. The statistics show that there are 2000+ hotels there in Bahrain. And Bahrain is the best place to start a startup for young entrepreneurs like you. The number of startups has grown at a CAGR of 46.3% over the past 3 years. Even non-Bahrain also gets good support from the government.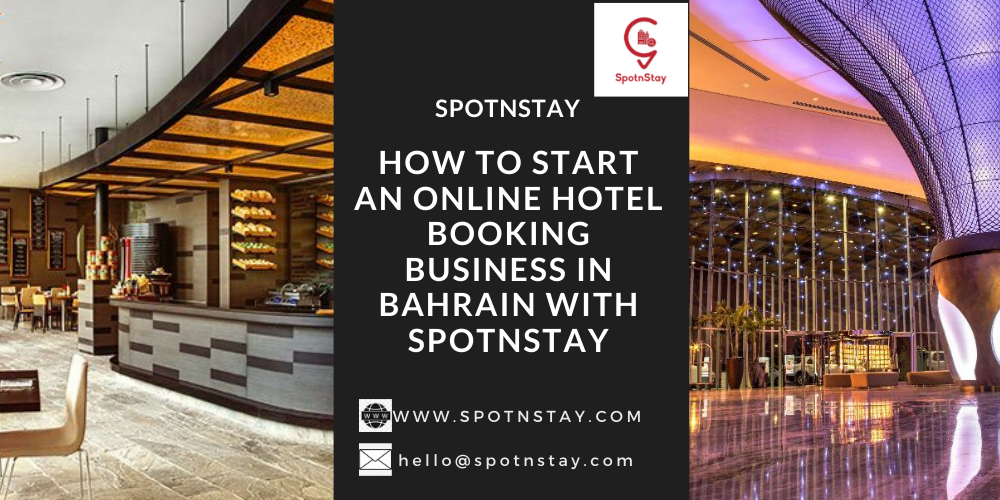 Why Bahrain Will be the Right place to Launch an Online Hotel Booking Startup?
As I mentioned before, it's easy to start a startup in Bahrain. But it should be a unique idea then only it will withstand the other competitors. The tourist population increases day by day in Bahrain. There are few websites which are linked with other countries too. So this is the best opportunity for the young entrepreneur who is looking to start their business in Bahrain can start a hotel booking web app. Which is specifically only for hotels in Bahrain. We will develop both the website and mobile app.
I know what is going on in your mind when websites are there why people are going to search for an app? Yea, your right but we all are living our life in 2020 there is no human without a phone. People nowadays search for instant solutions. Even though there are websites for ordering or booking it's also good to have an app for your customers.

So it's an excellent idea to start your own hotel booking app. You can also join your hands with hotels in Bahrain. How many hotels you're connecting with your app that much weightage is there for your app and for each booking you will get a commission. Don't worry you're going to earn hundreds of billions as I said before, it is expected that 15 million tourists will be there in Bahrain in 2020.

What Should One Know Before Starting an Online Hotel Booking Business In Bahrain?  
Before starting an online hotel booking business you should have a good business plan and USP. Don't panic, we are here to support you by creating a business plan for your online hotel booking. Before that, you should know about the pros and cons of your customers. We should get a clear understanding of customers' points of view on the online hotel booking app. Yea, it's the first key step that leads your online hotel booking to reach the glory of success. 2020 is a competitive world therefore people have to take a look at their competition each time. So that you can give some unique offers or plans for your customer. I'm here to aid you to raise your own online hotel booking in Bahrain.
How to RiseUp Your Online Hotel Booking Startup Among The Competition?
Here are the four main things you should keep concentrating on to raise your online hotel booking web app. They are location, comfort, refund amount and value are some of the basic things which help to attract your customers. You can start your own online hotel booking app. By linking your booking web app with other hotels that are nearby beach, park, hotels, movies, and games because people use to search for an instant solution rather than which takes time. 
Tourists always look for a good place to spend their day with a certain comfort. So money doesn't matter for the tourists they are ready to spend their money.

For example
The hotel may be running at a low cost but the specialty of the hotel should be mentioned like Indoor bar, Swimming pools, Spa, Gym, and etc.
Location
There are many booking apps that show the wrong location or route to that destination. Accurate location is a must for the tourist peoples.
Refund amount
Once the hotel is booked it can be canceled within a certain duration to get a refund.
Value 
Value is nothing but how you are going to save your customer's money. By offering free breakfast or a cup of wine. This shows how you are treating your customers in a good manner.
So these are the few important things which should be given in detail to attract your customers in your online hotel booking web app. As I mentioned before let me now discuss with you the business plan and USP. And do you want to know how your website works? Keep reading to know it.
Be Ready With Your Business Plan
Before jumping into any business there should be a proper business plan. A business without a plan is the way towards loss. So it's a must to create a business plan by using USP to take your business to the global level.

How SpotnStay Fits For Your Online Hotel Booking Startup?
Everyone knows about the top no.1 booking web app Airbnb. Do you need the same Airbnb app for your online hotel booking business? Then you are in the right place where we have an exact clone for that Airbnb so that it's easy to add features or remove according to your needs. And we create for you both the website and app for your online hotel booking business. Why do all young entrepreneurs all over the world choose us for their online booking app? Because we not only build an app according to our client's requirement. We also create a business plan and USP for their online hotel booking business. Our steps of creating are listed below.
Step1 – Your targeted audience.
Step2 – Explain the problem that your app is going to solve.
Step3 – We will be listing all the benefits of your app.
Step4 – combine the above three steps into an E-document to implement it.
How Your Web App Looks Like
You have to fill the required details before searching for the hotels in the desired destination. Then it will show all the hotels that are available according to their service and your customer's needs. You can sort according to your budgets or things you are expecting in the hotel. Accordingly Spa, Swimming pool, Gym, etc. It will also show the average amount for a night stay. Before selecting the hotel your customers are able to check the comments and pics of the rooms too. Every detail will be given clearly so your customers no need to worry about anything. And we build your web app user-friendly and use UX/UI to attract your customers.
Final Words

There are lots of tourist places but the world's best tourist place in Bahrain. And as I mentioned before there will be 15 million people visiting Bahrain quickly. Don't worry we are here to guide you and make you grow along with us.
For more details, just send a message to [email protected] and find more interesting blogs at www.spotnstay.com/blog. We are keenly waiting to be a supporting partner for you.
Launch Your Hotel Booking Business In Bahrain with SpotnStay App Solution: