The water dunk tank is considered as one of the funniest, coolest ways to have fun with our friends during summer vacation. A summer without the water dunk tank won't fully be accomplished. Moreover, the water dunk tank is the easiest way to get back to our neighbors, family, friends, boss, and manager.  
There are various types of dunk tanks in the market and these dunk tanks add additional benefits especially under the heat of the summer events. The water dunk tank increases the happiness of the people during summer and many event hosters started to seek for the best water dunk tanks for a period of time.
This brought the huge demand for the water dunk tank rental business in the market and many people started to rent their dunk tanks to earn high revenue. If you have a doubt about how the dunk tank rental business actually works or wants to start your own dunk tank rental business. Then this blog is for you.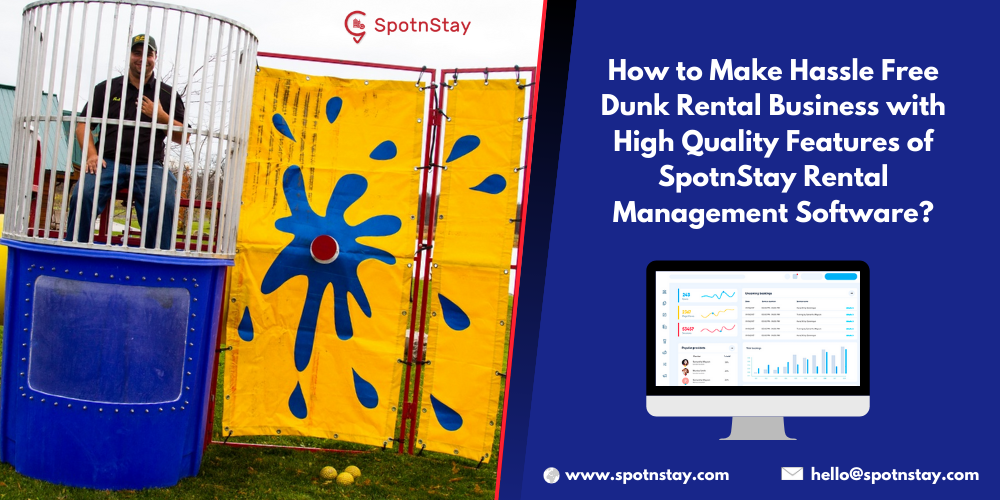 How To Kick Start A Water Dunk Tank Rental Business And Get Visible In The Market?
After deciding to start a business you can't directly jump into the industry without the proper plan and market analysis. If you did so without any proper market survey, it will lead to the loss of revenue. Therefore, make sure you have a proper business plan for your water dunk tank rental. However, if you're seeking for a high revenue gain and get branded. 
Then you must take a look at the technology innovations. Most of us are well aware of the software-based application, this provides you the ability to manage and reduce your actual work time. Other than that, it also helps you to keep open your rental shop 24*7 online and the renters are able to get your service access at any time from anywhere.
Before starting the water dunk tank rental business, know about the main two objectives. These objectives will help you to run the business more flawlessly and improve service quality easily. 
The objective one will be renting the water dunk tank as much as possible and widespread the service quickly with high quality.
The second objective is to make sure your dunk tank is more secure and well maintained during the regular period. Therefore no one gets injured and improves happiness.
But these two objectives can't be claimed quickly or easily without the well-developed dunk tank rental management software. The dunk tank rental management software helps you to keep your rental service on track and manage your rental activities. If you're seeking for one such rental management software for your dunk tank rental business, the SpotnStay will be the right choice. 
Build the coolest dunk tank rental management software with SpotnStay
SpotnStay is the top-rated rental management software, we provide personalized service according to our client's requirements. We have years of hands-on experience in developing rental management software. This lets us know about the strategies that help you to attract your consumers easily and quickly. 
Once you gather the attention of your consumers you're able to take your business to the next level with worthy offers and keep them engaged with your service. Therefore, we have developed the dunk tank rental management software with attractive interfaces and this will improve your renter's user experience instantly on using your service. 
After gaining the attention of the renters and rentee all you have to make them stay with your service for a long period of time. So that we have also integrated the constant offers and discount options. With the help of this, you can keep your renters and rentee engaged with your dunk tank rental business for a long period. 
With the help of suitable equipment rental management software, you keep your end-players stay and engaged regularly. To reduce your workflow, we have also included features like inventory management, real-time end-players tracking, checking on revenue updates regularly, and an in-build communication box. Let us take a detailed view of these features in the next section.
Before getting to the next section about the possible metrics to improve your dunk tank rental business. Here, let me explain what are the things other than dunk tank rental management software you will get benefited from SpotnStay. In SpotnStay, we provide free after launch service for a short duration of time. 
This helps you as an owner of the dunk tank rental business get well knowledgeable with your application. Other than that, we are also available here for 24*7 to help you with your queries. With instant service, you can get yourself cleared with your doubts. By clearing your doubts instantly, you will be gaining more technical knowledge. 
Keep the users active with possible metrics
Inventory management – Without proper management of the service and inventory, we are able to run any type of business. Therefore, we have integrated the inventory management feature. This feature helps the renter to manage their service and get real-time updates on their rented tanks. 
Actual tracking of service – One of the essential tools to be considered in the dunk tank rental business. This feature helps the renter to track the rented consumer in real-time with their details. With this feature, the renter and the admin, you will be getting instant updates on the rented consumers on a regular period of time. 
Maintenance period updates – Keeping the dunk tank safe and secure with regular maintenance will improve the service quality and be able to gain the consumer's experience. This feature tool will help your renters to maintain their dunk tank on a regular period with the maintenance updates on the regular interval. 
In-build communication box – To keep your service more secure and improve the trust among the end-players, We have developed this in-build communication box, this helps the end-players to communicate with themselves without sharing their numbers. This also helps them to get to know about the renter and their service.
Tripling the dunk tank rental revenue is realistically possible?
Tripling the revenue is every entrepreneur's dream and many of them are working hard to triple their business revenue. But here in SpotnStay, we have made it simple with the additional revenue scheme in the water dunk tank rental business. These revenue schemes are applicable for any type of business model your preferring.
As the dunk tank rental business carries two players renter and rentee. In SpotnStay dunk tank rental management software, we provide the revenue scheme for both of your players. Where you're able to gain revenue from end-players other than the commission charge. Here, I have listed the possible revenue you can gain by using our software as follows.
Renter (The person who are ready to rent their dunk tanks using your platform)
Service verification fare – To get listed as verified service providers, you can charge them a single time verification fare for lifetime renting on your platform.
Unlimited listing fare – Many service providers like to list most of their dunk tanks, you can charge them to showcase unlimited dunk tanks.
Promo and offer updates fare – To attain the visibility among other service providers or if they want to offer their service they have to pay for you.
Rentee (The person who are ready to rent the dunk tanks from your platform)
Offer and discount subscription – to get all the dunk tank on worthy offers at a regular time then the consumer can pay you the offer subscription charge.
Advanced tanks filter – If the consumer can wait to scroll all the dunk tanks and reviews. Then they can unlock this advanced filter and get an instant solution for their search.
These are the few of the additional revenue schemes that helps you to triple your revenue easily by using SpotnStay dunk tank rental management software. 
Final say 
Knowing the local service providers and market statics in the region will improve the dunk tank rental business profit. Make sure you have got the right tool to manage your dunk tank rental business. In SpotnStay you will be getting the best dunk tank rental management software with all possible metrics to double rental orders and triple the business revenue.
To reach us please fill the below form with your requirements or reach us at [email protected]. Therefore we are able to provide personalized rental management software according to your rental business demands. 
Launch Your Dunk Tank Rental Management Software With SpotnStay: