Airbnb is an online marketplace to list room rentals and extra spaces for travelers and tourists to book rooms easily. Actually, Airbnb is a peer to peer space sharing platform where customers meet room hosts. Unlike other room booking startups, Airbnb allows people to list extra spaces and earn additional income in the form of rent. This is a disruptive business model and many such startups have come across the world. For every booking, a commission is charged by Airbnb.
SpotnStay is an Airbnb clone solution to help new peer-to-peer space sharing startups.  SpotnStay is the topmost app development solution in and around. If you are excited about owning an Airbnb like a startup, then you must take a look at SpotnStay.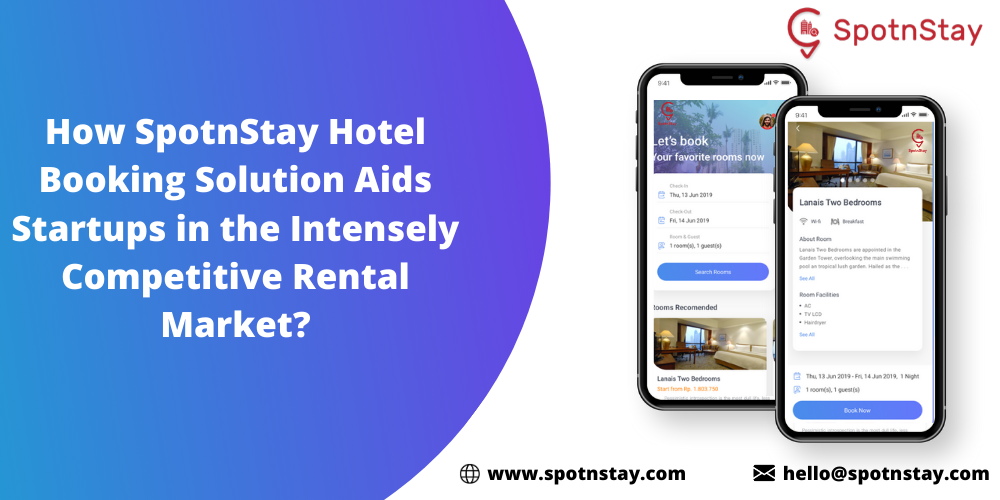 Why Go For SpotnStay Hotel Booking App Solution?
SpotnStay is a perfectly made pre-built app software to start business immediately. This is a completely customized model that can be modified to suit any business and revenue models. 
Brand new technology stack is used to develop SpotnStay and most of the functionalities in Airbnb are placed in SpotnStay. You will get the solution complete and launched within two days.
Vacation room rental business like Airbnb is highly competitive and it is inevitable to come up with a niche solution to sustain. SpotnStay gives you the much-needed edge to succeed in this sector.
Pick out the best Airbnb clone script, that fits your idea and get succeeded.
Things SpotnStay Brag About
Accommodation search
Customers shall get the best possible search results for the type of space they are looking for. Filters allow them to enter more factors like time, date, cost, basic amenities, etc to get accurate results. 
Message to hosts
To clear doubts regarding the room and negotiate the price, a feature is provided for users to chat directly with the hosts. Details like phone no. and payments are made hidden for the hosts to improve security factors.
Superhost certification
Certifications are given to hosts who maintain a rating of 4.8+ consistently with a positive response rate after a specific no. of bookings. Such certified spaces will be displayed at the top in search results to help users. 
Raise complaints and discrepancies
Hosts and users can raise any complaints regarding the stay and rooms respectively. The complaints and discrepancies are sent directly to admin and the problems are reviewed and resolved as quickly as possible.
Aboard
The payment gateway modules allow only certified users to enter. App development like Airbnb allows users to enter the system through various entries. Users register by providing sections of data, validate themselves through these details.
Safe Transaction
Apart from the regular card and internet transactions, we at SpotnStay have integrated Apple pay to iOS app and Google pay to Android apps to allow one-touch payments. The security of transactions is enhanced and the solution is made in a way to easily employ new payment systems.
Review
After the stay is over, the user and host shall review and rate in their apps. The system collects details and stores it in an organized database so that it quickly extract when it is required. Admin can oversee the ratings and directly send messages to hosts.
Layout Of The App Performances
SpotnStay Airbnb clone comforts the people to connect the hosts with one touch.
Travelers search for a property in a particular place where they like to stay and they search the convenient options according to price, amenities, etc.
The host and the guest can able to use the single account, so the host can list the rental property details it will be shown to the guest.
Guests can choose a place from listing and make the trip memorable with secured payment gateways.
Sustaining using SpotnStay script
If you want to reach the level of Airbnb using your own startup, then there are a few factors like payment system, app design, performance, usability, user interface, and scalability that matters a lot. Fortunately, all these are associated with the app solution and I assure you that SpotnStay software has a stronghold on these factors. 
Our developer and business team frequently get in touch with a successful vacation rental startup to get feedback on app improvement. The technology stack is also updated consistently.
Final word
This merchandise is estimated to grow 25% per year in the US alone. 34 million new people are estimated to use the online rental platform all over the world in 2020. SpotnStay Airbnb clone is already valued more than some of the biggest companies in 2019 with clients from 20+ countries. This service has a lot of features that will be implemented during development.

SpotnStay provides all the features that you will initiate your booking app solution, make satisfy your users, be in the competition and earn lots of currency. Don't wait for tomorrow to develop your own hotel booking startups, do it now with SpotnStay.
Acquire the best technical support in all stage from SpotnStay Airbnb clone script, for details ping to www.spotnstay.com and [email protected] 
Build Your Own Hotel Booking App Solution With SpotnStay: