As we all know, booking a hotel or renting our own room has become easy. It can be done in a few processes itself by filing required things and posting pictures of the room that you are renting on a website and start earning. But building or developing the best application is a must to attract your customers to choose you. Developing a high-end application is quite a difficult task until you are an expert in coding. So many will be struggling on searching for the person or a developer who can give them an exact solution for their problem. Here I will suggest you choose SpotnStay to develop your own vacation renting application and get a good impression from your customers.

Build your own application with SpotnStay for the best options and user-friendly manual use. There is a lot of software you can choose to build your own rental booking application. But our SpotnStay has been the first option for every young entrepreneur like you. We provide you the best vacation rental booking software applications. We have a team of experts and completed 356+ rental booking applications all over the world. And we also provide you full flexibility for your application so that it can be used in any device without cuts.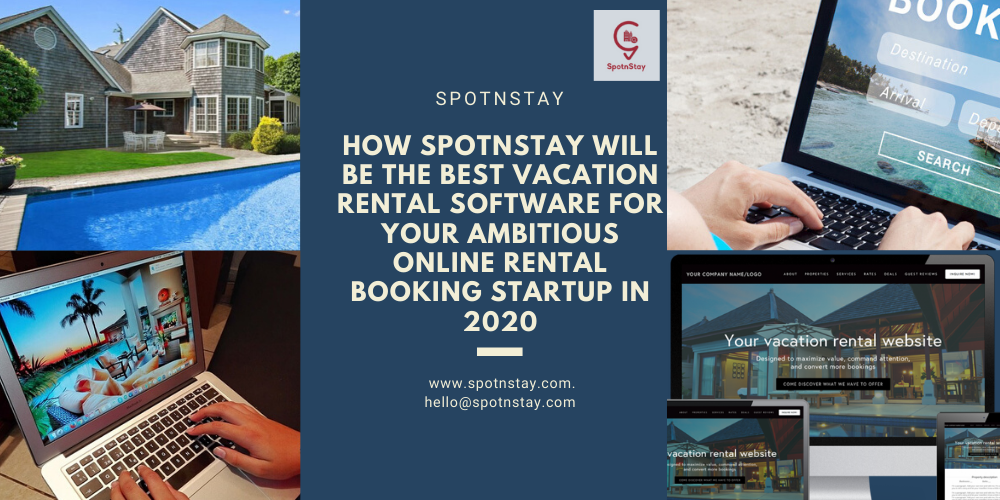 What are Facts to decide SpotnStay For The Best Vacation Rental Software
Now let me tell you a unique fact that makes other entrepreneurs choose us rather than others.
USP
Some of them may probably do for their own business but for others? We SpotnStay helps you to build a USP for your vacation rental booking application. USP is nothing but it points out your unique features which allow the customers to choose you without a second choice. We will aid you to create a unique feature.

For example – pets are allowed in your vacation rental but it is 100% safe?  for all your customers. So that you should have an enclosed garden now it makes a pet-friendly vacation rental booking. 
Finding your USP
To do so we will be taking surveys from the local area. Therefore we can easily predict their needs.

Checking that your location is near to the sea? It would make a family attraction? Good view of the sunset? Gives the feel of fresh air? Near famous places? Or it will attract your customers who like to walk or riding or birds sounds, etc. By keeping this in our mind we will aid to bring your application a strong place in the market.
Will a strong USP bring you more profit?
Then thinking about how to earn more by your rental booking application. We will guide you with USP to attract your customers. Therefore you are able to get good reviews and you can earn much more than you think now. To stand out from vacation rental marketing this plays an important role. Which will be aid from us using SpotnStay.
And here are the few facts of us rather than USP what are the services we are providing for your vacation rental booking application.
Free server development – You can save your money by getting our free server development option.
Free technical support – Once your application is launched to the platform we will be supporting you freely for 3 months durations. If you are facing any technical problems or any functioning issues.
Build your brand – You can now be able to rebrand your traditional vacation rental booking with a new logo and brand for your own application.
Customized solution – We will give you 100% your own personal touch to your vacation rental booking application.
Your software features also include
Here are some features we included for your business software to make your work convenient.
Calendar – This feature helps you to maintain your booking and all payments digitally. It will automatically update the info once the customer paid their room rent online or booked their room, with the customer's full details.
Messaging – Customers are able to message the manager or AI bot to know more details about the vacation offers and rental details.
Social media login – Customers are also able to log-in quickly by their social media account itself.
Since we are using the latest software you won't feel tough to handle the application it will be more user-friendly and flexible. Still, there are many new features available with us once you join your hands with us. You can get more info about your vacation rental booking application. 
Okay, let me give you an additional tip to make your vacation rental booking more trending in social media. 
Themed accommodation – since it is a vacation rental booking application people are madly in love with themed accommodation. Themed accommodation is highly on-demand in the market for vacation rental. You can paint your walls with some fun themed to stand out. Like a vice, you can paint all over the area to give a complete change to your place. I'm sure that your customers are going to enjoy this and surely they won't forget you and your service in the upcoming years.
Final say
By now you might have gotten to know a bit about us for knowing more about us click the link SpotnStay. Since it's the start of the year we are giving discounts up to a certain period of time. Don't waste your valuable time making use of it now itself for any queries contact us any time [email protected]. We are ready to guide you in all 360 degrees to grow along with us. 
Get a Best Vacation Rental Software For Online Rental Booking from SpotnStay: