SpotnStay is an online vacation rental booking application development solutions. It also helps you to improve your online vacation rental booking business startups in many ways. We have creative, innovative and technical ideas; SpotnStay has an impressive technology at your disposal. It will not be that much tough to bring it to your online rental booking application software. You have to do something interesting and innovative to make a cut into the online rental startup business so that it affects the customers in a good and positive and make you viable.
SpotnStay will help to organize them in a good way. There are lots and lots of options to compare and book.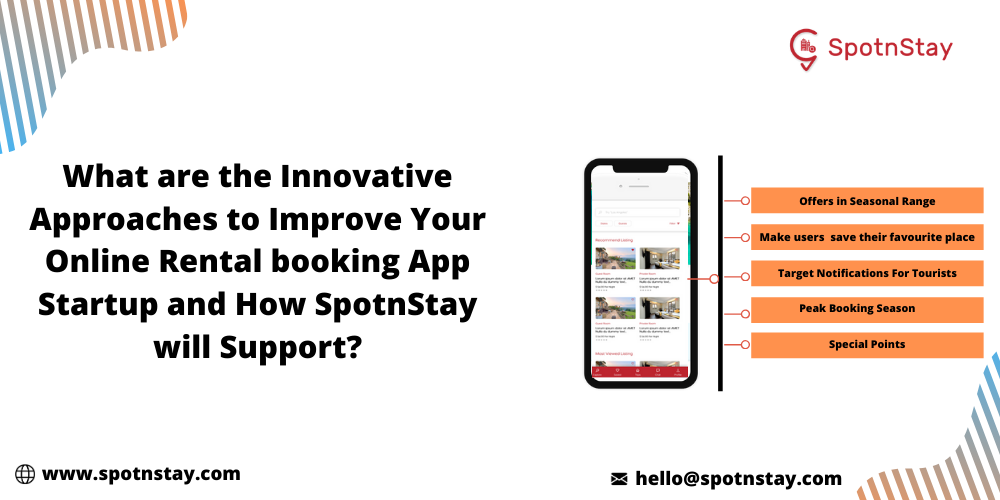 How SpotnStay Rental Booking Software Helps to Improve your Online Rental Booking Startup?
Offers in Seasonal Range
You can give seasonal offers in a normal month. No one can resist good offers. You can tell the offer through your app notification, mail and the opening of the app page. Customers can easily attract offers. Give some special offers for regular customers.
Special Points
Allot some reward points for repeated users for every booking. Then you may get many repeated customers through this system. Every festival time give some offers to every customer based on their total points. For example, if you buy some clothes in Reliance Trends, they add some points to customer numbers. In seasons or festival time they'll announce and give some offers of those points. Why don't you add this innovative process to your startup? Customer will be glad to come, they don't hold any good offers.
Make users save their favourite place
Customers will be able to save their favourite place. If some customers book a particular place, again and again, it will be considered as a good place, so that place shows at the top of the suggestion list. The top five places are shown on the opening page every time. It will help other customers to experience the same happiness as the others.
You can add your friends and family in a close circle option and invite your friends and families with just one click. You can send a notification message to your close circles, to asking them to join with your trip. After you send your notification message they have only two options to answer your notification message, Accept or Decline. Even they have an option to plan a trip together with their close circle members, they can able to book the same place at the time.
Target Notifications For Tourists
Geofencing is a location-based digital marketing. You can able to send a notification to any mobiles, desktops, tabs etc. The notifications are about the available rooms and resorts, with some offers. If you go to the airports you will get a random notification about, room rentals, restaurants, places like this, but that notification won't come after you cross the particular area, that area is called geofence areas. You can use this method to advertise your application.
Referral Code
The exclusive features in the SpotnStay Airbnb clone app like Airbnb. Referral code is a very special one in this app, customer can refer their friends and family about this app and using your referral code or link, and get your credits to return. If that person downloads the app and book their first trip with that referral code, they'll get some offers on their first trip and the suggested customer also get some cash-back or offers. It will give some hope to your customers.
Nowadays everyone prefer to use coupons, you can also give coupons like Airbnb. The customers get a coupon on their first bookings and fifth tenth,… Bookings. This method helps you to increase your regular bookings.
Peak Booking Season
Not very seasons are running the same and at the same time, not every company has the same season booking time as yours. Everyone has their own peak booking season time. Your peak booking season is going to be very different. Many peoples booking their places at that time. Use this time and give some offers, it will help you to increase your annual budgets. Sync the peak booking season with the calendar so that automatic notifications on discounts are sent to users.
Final Word
If you can use these innovative approaches, it will help you to improve your online rental booking business. SpotnStay team is skilled in handling the latest tech advances. We have the tools to quickly incorporate any new ideas. SpotnStay will aid you at each step and help build a complete online rental business startup. We believe our customers too. SpotnStay will be doing numerous on-demand projects in 20+ countries. SpotnStay is the finest choices for rental booking business startups. I hope you will come and join your hands with us.
To talk more about our solution, catch us on www.spotnstay.com and [email protected]
Get a Pre-built Rental Booking Software from SpotnStay: