Creating events rental business can be a challenging task to take on the hands. You as an entrepreneur should consider whether the rental business will be profitable for the long term or short term before starting it. It will also depend upon the type of service you are planning to offer within your location or different location.
More importantly, your rental business venture should be something that you would want to work for several years to make the brand in the rental market. Owning an event rental business needs a lot of dedication and motivational skills to make it successful. But in the table and chair rental business, there is no need for any skills requirement.
This blog is about the tables and chair rental business delivery service. If you're interested to start your own rental business then you should consider the revenue gain tables and chairs rental business. Keep reading the blog without skipping any part of it, at the end of the blog you will get to know how you can gain high revenue with our application.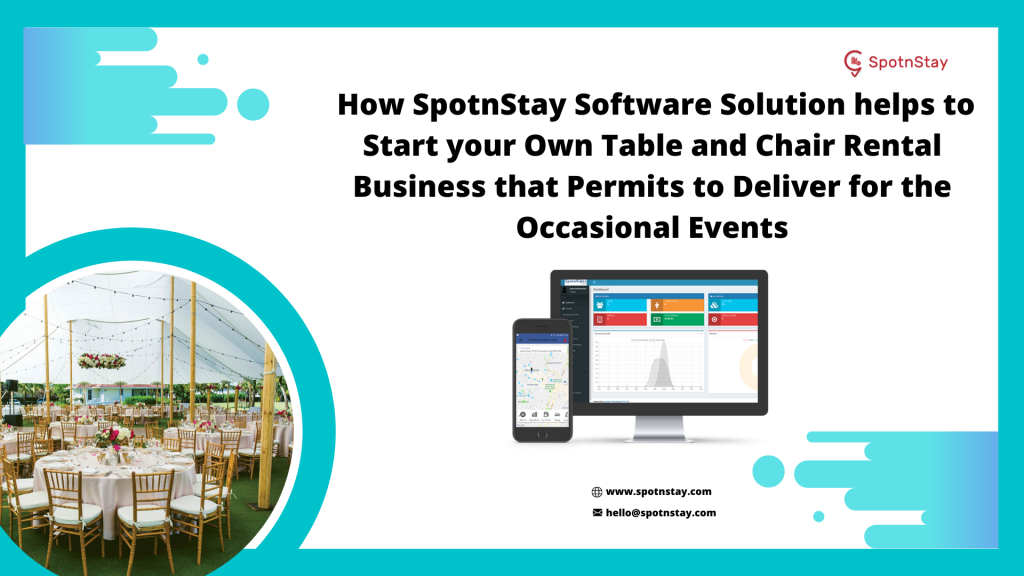 Why You Should Consider The Table And Chair Rental Management Software For Your Rental Business?
It is a good idea to create a table and chair rentals business today. These are some of the most important elements of this event planning. Unless it's an outdoor music concert, where everyone mostly likes to enjoy the event by standing up rather than seated. Here are some of the reasons why it is a good idea to set up a table and chair renting business.
Easy to manage – You must have several chairs and tables that are to be rented for an event. It doesn't matter in the size of the event whether it is a small or large event. All you need to do is to take care of the logistics and permits to deliver the chairs and tables on the event site correctly on-time.
Constant growth – Nowadays people are ready to rent the required things Instead of buying. Likewise, people use to rent chairs and tables for an event that will only last for a day or two. So that clients can save a lot of costs rather than buying it. You can also rent your tables and chairs to all kinds of events that can be served.
Less maintenance cost – There are no maintenance efforts required in managing a table and chair renting business. If there is a damaged table or chair, you can try to fix it or replace it. Generally, most of the tables and chairs won't cost as much as tents and other technical equipment.
Things to be considered before starting a table and chair rental business
Have you ever realized why the top rental company's rental secret is how they gain higher revenue than others? There is no such thing as a secret, they will be planning their rental business like a Pro before launching it. Here, let me tell you the things to be considered by the table and chair rental startups.
As I mentioned before, a clear plan is essential for tasting success in your rental business. You as a young entrepreneur should have a clear survey about your rental business, targeted audience, and market value. It will help you map out the specifics of your business and discover new strategies.
What are the ongoing expenses for a table and chair rental business? You have to be well aware of the equipment maintenance/replacement costs, rent/storage fees, employee salaries, and application. The next step is the targeted audience and market, always the targeted market depends on the location of your application launch.
For example – If you're operating near a high-income neighborhood area, then your clients will throw constant events for every special occasion and seasonal event. Or If you're operating in middle-income areas like schools and colleges then there will be needs for a seasonal time only. So you aren't able to gain revenue constantly.
Your main aim is to hold major gatherings from fundraisers to festivals. This will bring you high revenue gain constantly without any lack of the rental business. Rather than the target market and plan, another important thing you're in need that is an application. A well-developed application is only able to speed-up your rental business.
How SpotnStay software lets you grow your table and chair rental business
SpotnStay is a software-based application that has been uniquely designed and developed only for the rental business. Our pre-developed software application allows the rental business owner a quick start and maintains their business easily with just a tap on their application.
Our application has been developed by a group of experienced developers who are well knowledgeable in a variety of frameworks. They use to keep themselves updated with the recent technology in application development. So there is no need to worry about the application quality.
We are 100% sure that we will be delivering you the best unique application for your table and chair rental business. Since our software is pre-developed, it is readily available with us now, you can get it in a short period of time. If you want to add some other additional features it can also be done.
The time will be taken to restructure your application according to your requirements. We promise that we will be delivering your application at the right time. Rather than that we also provide you before and after launch service for a certain period of time. So that you can be well-trained with your application. Keep reading to know the niche features in your app.
Fuel your growth with SpotnStay table and chair rental software niche features
Real-time inventory management – With this feature you're allowed to manage your inventory easily across single or multiple locations. Stay up to date with accuracy in your rental inventory. You can manage all the rates and control pricing.
Quick booking – With the help of the social media integration the rentee can quickly start with your application service. This provides a smooth and consistent rental booking experience that enhances visibility in your region.
Real-time monitoring – The admin and the renter can easily track the rentee and the rented tables and chairs in real-time. The admin can also track and monitor all the users and their full details will be displayed on the dashboard.
Seamless payments – This payment feature makes the customer's payment easier than before with the integrated payment gateway that enables all the payment methods. That is convenient for both the player's renter and rentee.
Review and feedback – This is one of the important things to be considered in the rental business. It allows the rentee to know about the renter and their service. This also allows the renter to understand the rentee and improve their rental service performance.
SpotnStay table and chair rental management software additional revenue schemes
Rentee subscription – You as an admin can cost your rentee subscription fees for extra discounts and offers on the seasonal time. This allows you to gain extra revenue in your rental business monthly or yearly according to the subscription period.
Renter's membership – If the third party wants to list their tables and chairs in your rental application then you can cost them as host membership fees for listing their tables and chairs in your application.
Listing fees – If a host lists more tables and chairs, then you can bill them as per the number of lists they have been listed in your application. In addition to the renter's subscription fee, this will also let you some add-on revenue in your rental business.
Advertisement fees – With the above-mentioned revenue model, you need a bit of extra money. Then, you can allow the third party's advertisements in your application, they will be paying at a regular interval of period.
Bottom line
Tables and chairs renting business can be one of the easiest types of rentals businesses than other rental services. But for fulfilling and to visibility among the major event requirements, all you need is a well-developed application.
We SpotnStay provide you a unique designed rental application at an affordable price with advanced features and revenue schemes. Still, why are you waiting? Contact us soon at [email protected] or by filling the below form and we will reach you quickly.
Launch Your Table And Chair Rental Management Software With SpotnStay: