Are you in an idea to take your hotel business to the next level and earn extra money? Searching for the software which will suit your hotel? In an idea to change your hotel digitalization? 
Taking bookings through calls and on time bookings is a bit tough task. These tasks can be easily done by software. If your hotel is not getting more profit then you might have made a mistake in developing hotel booking software for your hotel or don't have software. 65% of people love to book or do all tasks with digital. If your hotel didn't have a digital feature then it's a big drawback.
Malaysia has ranked as 9th place for tourism arrivals. And it stands in 25th place over 141 countries all over the world for tourism. No worries, We are here to aid you and bring the best software for your own hotel with unique ideas and frames. There is an uncountable number of software and freelancers are there to develop a one for your hotel. But why we? This blog will give you all the details about the HMS and How important it is.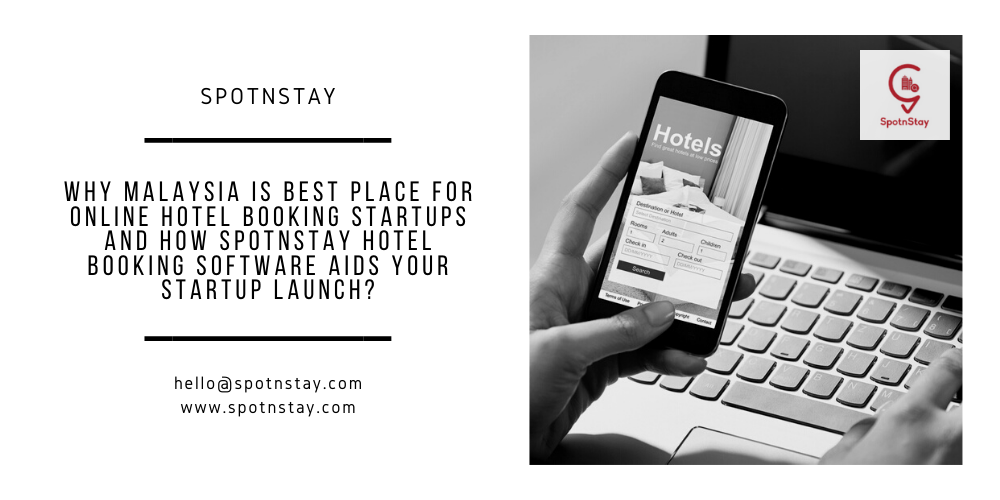 Why You Go For SpotnStay Hotel Booking Software solution?
Many developers use to develop the customer management system and they will be costing you up to when they are satisfied. Before that, you should know how HMS is divided. It is divided into four modules and they are listed as below.
Reservation/Booking – online bookings and reservation process.
Analysis – income management.
Housekeeping – staff management (back desk).
Customer and manager relationship – customers' details and issues.
All four will hand your front desk and back desk tasks to maintain correctly. The reservation will be taking the bookings directly from your websites. The statistics say that more than 700 million people will be booking their hotels online in 2023. 
The online reservation working process
It will show the available rooms in your hotel to your customers. They can verify and once they book it. The details will be directly mailed to your hotel and then the confirmation will be sent to your customers in return.
Analysis
This will make your hotel management more convenient and easy. The analysis will show all the costs that you have spent with the billing details. And the things that you need to buy.
Housekeeping
I don't mean that you have 20 or 200 staff members for work in your hotel. All you need is to monitor them and check whether they did their work correctly or not. Your customers are able to review your staff's performance.
So this is how HMS is developed. But this will not take over all your targeted customers. The features in HMS may vary according to time so it's better to develop a customizable HMS. The total hours to develop software according to HMS is 1110 hours it will take and cost you more than $60,000. Are you ready to invest? Feel free, we are here with an instant solution for you. 
Why we SpotnStay will be the best option for your hotel booking software?
Because we have developed 70+ software and we have clients all over the world. Our outputs are different and they stand out in the market. We not just develop software according to our client's needs. We will be taking a long survey about your hotel and getting to know about the local culture. Most importantly we will provide you unique software by traditional method. We SpotnStay aid you with 360-degree service to improve your hotel bookings and so that you can earn more.
We already have a developed customizable HMS for you. Once you join your hands with us it can be redeveloped according to your needs
After developing your software with us you will get the followings as listed below
Features that you need to be included can be done in a short period of time according to your business requirements. We don't cost you extra your just paying exactly what you want to see in your software.
Your details and customer's details are highly secured and 0% will not be leaked.
Once your business is expanded your software can also be modified according to your flexibility and there is no need to develop a new one.
Final words
A well developed customized Hotel management system will give you a great asset to your hotel business and it will totally change your workflow. It will improve your team performance and allow you to compete with others.

By now you might have gotten to know a bit about us for knowing more about us click the link SpotnStay. We have experienced a Business analyst who will guide you and take your earnings to the next level. To contact our business analyst [email protected].
Build Your Own Hotel Booking Software in Malaysia With SpotnStay: