Building a startup has never been so easy. The main reason for this is the not so huge capital required to set up a startup; on-demand rental app startup and space booking business is a testimony to it. 
The online space rental model is a perfect example to earn by solving the never-ending problem of locating space to stay. Having extra space in your home Or a living place idle for a long time? Then it can be listed on online space sharing platforms to earn steady income. The online platform operator earns some percentage as commission for each listings and bookings. Interesting isn't it?
Instead of listing, why don't you separately launch a space sharing platform and earn good money without much effort? Being a startup entrepreneur is much better than just listing your space. Worried about how this startup idea will fare in the future? Let me give some hard-hitting stats for it.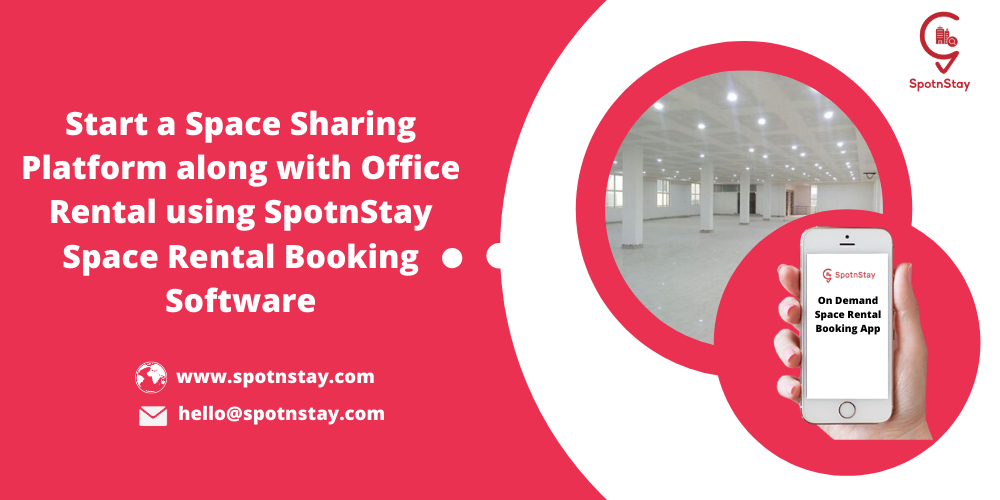 What is On-Demand Space Booking Software Stats?
36% of US households are looking to rent their house to earn money. This % share is very high among regions where the location advantage is high. New user penetration stands at 10% in 2020 and is expected to reach 11% by 2023. Total revenue from the space/room rental sector will be $87,000 million.
On all counts, the on-demand space rental startup will be an instant success. Not to mention the growing need in developing nations in Asia and Africa. 
The new decade also gives us promising data regarding purchasing power and per capital income; an increase in these data has a direct impact on tourism.
Application for on-demand space rental booking
The mobile and web application is the first thing you need to develop for your new space rental startup. Type of development depends on resources and time available with you.
Readymade app solutions like Airbnb are readily present with few experienced development firms like SpotnStay. They discuss the need, draft a framework, and customize the app based on it. The turnaround time is less than 3 days. So you can launch your startup in a matter of days. No technical expertise is required; you just purchase and deploy in the market.
Second type is following the bottom-up approach of app development from scratch. To check and review the development you need to have expertise in app development. Choose this option only for specific reasons like developing a solution with no trace of Airbnb or other top apps.   
SpotnStay ready-made app for space sharing
SpotnStay enables you to launch a startup like Airbnb or OYO at 1% of what they spent. There is no compromise on performance and it will be on par with them. Pros of SpotnStay are as follows.
React native development process to use the same code for multiple platforms and devices. This saves time.
Phase wise development to make the whole process systematic. This gives transparency and understanding for you.
No hidden cost and extra charges are made only after deliberations.
Project manager and coordinator is assigned to guide till the last.
Only skilled professionals are used to bring the best output devoid of bugs and issues.
Industry-standard benchmarks are followed to attain utmost quality.
100% scalable set up because of databases used by top startups
SpotnStay recently made a new addition to the product so that our clients expand the service to cover new areas; it is the co-working office space rental.
Co-working space rental from SpotnStay
Getting office space for working is a huge task and that too at lower rent. Apart from office space, professional events also require temporary space which is a herculean task to find. This can be sorted using the concept of Airbnb. Be the first person to solve this!
Combine co-working space rental with your room rental booking startup. SpotnStay has all the provisions included in the solution.
Co-working office space rental is a fairly new concept and the demand for this is exponentially increasing. Now is the right time to enter the space rental market with this fabulous online marketplace idea!
What next?
You got a fabulous idea with an impeccable solution(SpotnStay) at your disposal. Mail us your requirements and our business team will assist you from start. If possible come to us with a business plan and revenue model.
Why join us?
Complete source code of solution will be given without any encryption. So, while app updation and feature addition we can't function without your permission.
SpotnStay is one of the few solutions to have separate options for co-working space rental.
One of the few in the on-demand app development sector to be proficient in adding new functionalities seamlessly. Our office space rental is a testimony to it.
Free support and assistance you have never seen in other providers.
Wrapping up!
For quick buyers we offer many incentives and a discount on the solution price. For 2020 we planned to introduce new advances in SpotnStay, so don't forget to ask about it.
Like I said before mail us your business model to [email protected]. You will get a follow up from our business team immediately. Also, take a look at our slew of applications using the rental booking model on our site. 
We are looking to combine with you as a technology partner!!
Get your own Space Booking Software from SpotnStay: