Parking the vehicle is painful, accept it when you are in a busy city/country. The road is filled with traffic, and there are no empty spots to park your vehicle. Finding space for parking is really like a tough game, if you're a lucky one, there is a chance to win it. The most frustrating time is when we planned for dinner at our favorite restaurant, but before reaching the table our entire mood will be spoiled, just like that because of parking issues. 
So to put an end to it, young entrepreneurs like you can invest your money on an on-demand parking app to earn billions in a short interval. You might have also experienced the issues of the parking system. Just dream of it, if an app that shows you the nearest parking space which is empty and the cost of it. Isn't it worth one to earn more dollars in a day?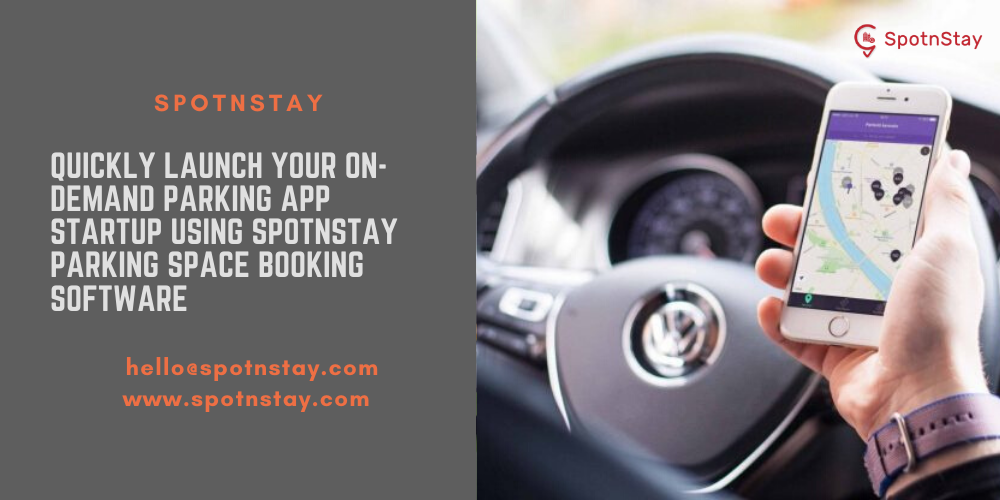 Why the On-Demand Parking App is a cash cow?
By the achievement of some parking, apps are the evidence for this service application. Let me tell you an example: the MKE park app has grown from 6,518 transactions to 16,913 transactions per week. Parkwhiz is a parking app that has 40 million users with 4000 parking locations around the US and covers 190 cities in the US. There are many parking apps in play stores nowadays, you may wonder if there is a chance for a new one? My answer will be yes. Cities across the world are still suffering to find parking spaces.
Statistics show that 30 percent of vehicle traffic in cities is searching for a parking place nearby them. So if you're in an idea to develop a parking application then it's the right time to kick start it. Step into the market with your own parking application and taste the experience as a leader.
Create your on-demand parking system using a top app like Airbnb with SpotnStay
Airbnb is a web portal and smartphone application that is widely used by people all over the world to book their place and rent it. At SpotnStay we provide you with the exact concept of Airbnb with efficient service to our customers. Our Airbnb clone concept will do exactly like the original application with some flexibility of extra features and creative user-interfaces. Our Airbnb concept clone is fully customizable for all the on-demand application services and the rental process.
What will you get with our Parking system package?
We have made N no of world-class web and smartphone application services hassle-free for our clients. In this application package, you will get 
User Portal and Mobile application with both iOS and Android,
Admin management dashboard,
Parking place owner's Portal and Mobile application with both iOS and Android,
Official website with or without booking functionality.
How does the parking system work?
When the person who thinks to earn extra money by renting his space can download the application from the respective stores or visit the web portal. And fill the required details about them and their place details. Once they did the process correctly they are now ready to earn money with the help of your parking system application. The person who thinks of parking their car/bike can use your application to check the nearby free parking spot and he can also pre-book it. You as an admin will get a commission for each parking. 
The features available in your web panel and application
The user application contains two types as one is User who is going to search for parking space and another is Parking place owner who is renting his space.
User Portal and Mobile Application
Registration – The user who is new to the app has to register their details like name, email id, etc.
Parking location – The user can search for the nearby parking location using this feature.
Arrival and Departure time – It can be fixed by the user once it is done the estimation cost will be shown.
Schedule parking – The user can pre-book their parking according to their needs. And the users are allowed to check or view their parking history.
Payment – Payment can be done through online or directly.
Rating & review – The user can review their parking experience once they are complete with their service.
Parking place owner's Portal and Mobile application 
Add slot – The owner of the parking place can add several slots according to space.
Check no of users – They are allowed to check the no of users who have booked their parking space.
Accept and Decline – They can also accept and decline the request of the users.
Admin Panel
User management – You as an admin can manage your users through this feature by keep tracking the number of bookings, translation and parking history.
Parking place owner management – You can also manage the place owner by giving approval for their place and fixing price.
Manage payments – You are allowed to manage the bookings, payments, and offers.
By launching this web panel along with the application in your city you will get the commissions for each of the bookings. Your users will be benefited from the quick access to the free parking space near them.
Why our parking system application development company?
Because we are what you're looking for. We are well knowledgeable about the latest trends in technology to integrate with your application to give you the best parking app. So don't think twice, just contact our business leaders to getting your queries cleared.
Launch an On-Demand Parking App Startup with SpotnStay: