Nowadays, getting started a business needs a large number of finances. But when it comes to financing, it is a major issue either your business is small size or medium or even large. You're indeed of a certain amount to kick start and to maintain it. But according to experts adverse than buying a store you can rent storage to a quick start with low fare.
This sounds worthy, business owners should always think of the business development on a regular basis for reaching the customer's expectations. Renting business has shown the standard growth in a few decades and we people use to rent many things. Either a dress or storage we prefer renting than owning it.
An online food serving equipment rental business is one of the kind where you can easily gain more revenue in a short period of time. But to start this business you're in need of an application only there is no need for storage or physical store. This blog is all about the food serving equipment rental service startup.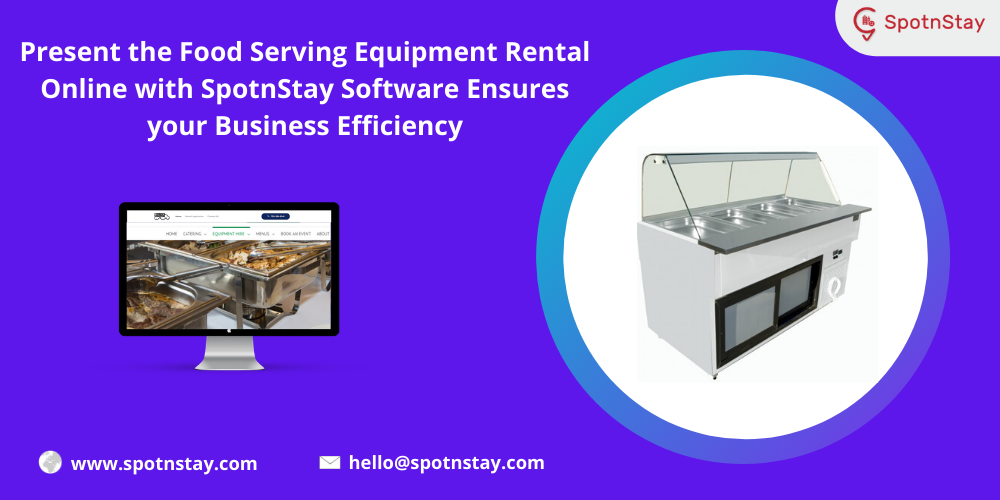 How To Choose The Right Rental Application That Brings The Efficiency Of The Food Serving Equipment Rental Business?
Today, without an application we aren't able to do anything likewise renting business too. The renting equipment has brought huge demands than owning it. People's mindsets start to change as technology updates. Most people think renting equipment is more effective than buying it and filling the storage.
One such thing comes in the event planning either the event is weeding or a party. The people are in need of the food serving equipment rather than buying it for a day people use to rent it from the respective service provider. Let me share a few surveys on the food serving equipment that gives you a clear demand in the upcoming year.
The global market share value of the food serving equipment is USD 31.64 in 2019.
The forecast period is expected to show a growth of 0.5% at the end of this year.
The factors of changing in our lifestyle bring the demands for the food serving equipment rental business. So, it is the correct time to start your business with an application to get benefits by maximum bookings.
The advantages of the software-based application will take your business to the next level with the help of managing and tracking tools. With the help of software, you can gain revenue seam line operations. It allows you to manage several aspects like the location of the service provider or customers, routes, service, and maintenance.
You're in need of an equipment rental software solution that has a centralized admin dashboard and instantly updated data on the process that takes place in your application. One such solution is available in the SpotnStay food serving equipment rental management system. Keep reading to know about us and our service.
SpotnStay offers a complete Food Serving Equipment Rental software
A full-featured rental software is a way to the success of the rental business, one such thing you will be getting in SpotnStay. SpotnStay is advanced software that has been developed with the beneficial tools that simplify your rental business. 
Due to the demand for the rental business in the current marketplace, We have developed your application in such a way it gathers the customer's attention with the help of best user interfaces. With the help of the latest User interface, convert the application even more user-friendly and make it compatible with all sizes of the devices are possible. This gives easy access from any smartphone device without any cuts.
Rather than the design and pre-developed software with advanced features, what will you be getting from SpotnStay? Our team of developers will be providing you technical support on any issues or the queries you need to get clarified. You can contact us at any time we are ready to help you with wholeheartedness.
The benefits you will be gained by using SpotnStay food serving equipment rental management software as follows
Transparency – All types of rental calculations that take place in your application are including taxes, service charges, rented charges, maintenance fees, and many other processes that are automatically done with the help of our SpotnStay software. These estimated costs before renting bring transparency to your rental business.
Data Management – When it comes to data management, you can collect all the data that are related to the rental services, customer information, rented details, service charge, renters details, etc. These processes are easily managed by using our rental software.
Customization – Since our software is developed more flexible, so that it can be re-modulated according to your demands. This customization won't take too long and you can quickly start your rental business. The offers and discounts can be easily customized in your application with just a few taps.
The above mentioned are a few of the benefits that you will be getting adapted by using our software application. Here, let me share with you the business models and the additional revenue schemes. These additional revenue schemes help you to gain add-on revenue in your online food serving equipment rental business.
Host membership – This revenue scheme is suitable for the commission-based business model because you act as an admin and your application act as a platform where people can rent their products. For renting their products in your application,  you can charge them this host membership fare on a regular basis.
User's special offers subscription – This revenue scheme is applicable for both business models (commission based & P2P). The customers who all want add-on special offers and discounts on a regular basis then they can get adapted to this scheme. By getting adapted to this scheme, you get additional revenue annually or monthly.
Premium listing – This is another revenue scheme that gives you additional revenue from the service provider. This scheme is applicable to a commission-based business model where the host can list more food serving equipment. There is no limit for them once they paid for the premium listing option.
Premium filter – This add-on scheme is an application for both the business models. Your customers have to pay for this scheme for getting the right solution for their search. This lets them unlock the premium filter option that gives the right and the best solution for their search. This can also be billed according to your requirement either monthly or annually.
Promotion Banner – This is a promotion scheme for the host and the other service who wants to tie-up with your application. It is applicable for both the business models, this acts like in-app advertising. With the help of this, the service provider will get visibility and this lets the customers book their products sooner without second choice.
Still, there are more revenue options available with us namely verification fare, commission fare, shipping fare, service fare, etc. Once you're ready with your business demands we can share the other effective revenue schemes for add-on profit. Here, let me say some beneficial tools that are readily available with us now.
SpotnStay rental management tools to manage and monitor the rental activities
Rental Service Registration – This is the first and foremost step for getting begin with the service. Customers can easily register with social media integration. When it comes to renters they have to fill certain details according to the admin's demand so that the customers can also check the service provider's details.
Service Management – One of the main benefits of using the software solution is to maintain the rental business. This feature allows you to track and monitor your equipment rented customers easily with just a tap. It will be displaying the full detail of the customer who has rented. This gives the service provider full details for verification.
Rental Collaboration – This an in-build chat box feature where the customers can keep in touch with their renter. Since it is an online rental platform the customer wants to get clear of any doubts. So that they can directly raise their questions or queries here. This feature acts as a trustable communication platform for both the end-players without any lack.
Automatic Updates – This is an instant notification about the rental business service. The service provider can keep updating their rental equipment offers and discounts according to their needs. This lets the customers know the offers and discounts immediately without missing out on offers in the spam section.
Cloud-based Rental Solution – Our software is a cloud-based solution that gives instant solutions for your rental business. This gradually reduces the mismatching of the rental orders or overloading in the rental request. The admin is allowed to manage all their users from the centralized dashboard. The admin can remove the service providers according to their service.
Bottom line
The demand for the hospitality business and their requirements has been increasing in recent days. Food serving equipment rental business is one of them, boost your rental business with advanced SpotnStay software. You can easily display the food serving equipment that differs in size and range easily with just a tap on the dashboard.
I hope you might have a clear view of the online food serving equipment rental business. If you have any queries or to reach us please fill the below form or contact us at [email protected]. We will catch you soon with the right solution.
Build Your Own Food Serving Equipment Rental Software With SpotnStay: