Like ordering and delivering, renting the equipment also becomes simple with just a few taps. Though there are many types of rental businesses from small scale to large scale. Every rental business has its own revenue scheme. Mostly all the rental businesses don't generate the high revenue as they expect.
If you want to earn more on the rental business then you have to start your own heavy equipment rental business. The construction equipment rental business industry is growing steadily, it is the perfect time to start your own rental business. If you're interested in starting your own construction equipment rental business.
Then this blog is for you here you will get all the details about the construction equipment rental business and software.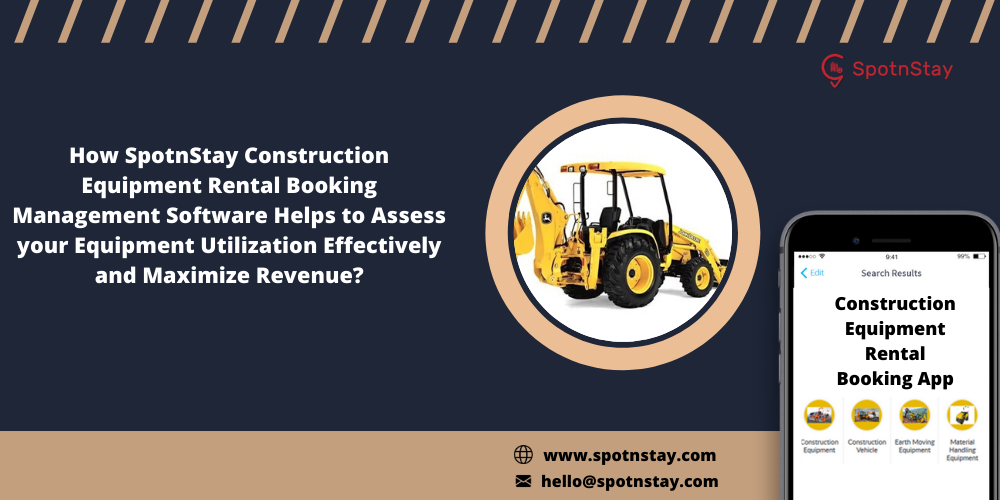 Why Is There A Major Need For The Construction Equipment Rental Management Software In 2020?
In the recent survey of over 7500+ business owners, CEOs, and managers are found that heavy equipment rentals are increasing across the sea. The revenue growth of the heavy types of equipment rentals is increased due to the scope of the construction industry. During the period of construction, nearly 16 types of heavy equipment were used.
Now, many might be thinking, is it really more cost-effective to rent over buying it? Is renting construction equipment really best for your company? Yes, these types of heavy equipment cost more, therefore, people prefer to rent it for a certain period of time according to their needs. Even if you're into the idea of buying heavy construction equipment.
Then, you should keep considering its maintenance cost too. If you're into the idea of renting your heavy types of equipment to the construction industry, then you can easily gain high revenue. Because the renting of the heavy equipment will give a double percentage of the rental cost than other types of equipment.
For renting your heavy types of equipment all you need is a software-based application to bring visibility among your region. Automated rental management software for your construction and heavy equipment rental business will manage all of your customers, contracts, and reservations in one centralized dashboard easily.
Benefits of automating your construction equipment rental booking business
Construction equipment rental software is based on the real-time field experience and best opinion for the host of rental organizations. This gives the host a proven professional services implementation experience and gives more efficiency in the business. Using construction equipment management software will improve your business workflow easily.
Easy to use – The software-based application is simple and automatic, so managing your heavy equipment rental business isn't intimidating. Therefore you can always manage your business at any time from anywhere.
Streamline operation – it diminishes the risk and uncertainty with seamless integration between the rental financials, contracts, reservations, inventory and customer information. All through one management system.
Saves your time and keeps organized – Your customers can easily check the required needs and the availability in your application quickly. The time-consuming manual paperwork is reduced so your employees focus on the needed things.
Grow your business – A well-developed construction equipment rental software will support the needs of growing your rental businesses. This also allows you to analyze your business growth weekly, monthly, therefore, you can take the necessary steps to promote it.
Instantly get paid – For every renting you will get paid quickly through online money transfer. You can update your types of equipment costs and offers regularly easily with a few taps. This allows your customers to get instant offers and discounts at their in-box.
By now you might get to know about the advantages of using the software-based application for your heavy equipment rental. But if your application is developed with the poor technology it will lack at a certain point. Keep reading to know how our software helps you with your rental business.
Five peculiar functionalities of SpotnStay fuel business growth
SpotnStay software easily enables the dealerships of your construction equipment rental more efficient with the seamless transfer of the equipment, accurate estimation calculation, and rental conversations. More than that it allows managing the contracts, track equipment, and work tool utilization quickly.
The profitability of specific equipment – With our software, you as an admin can easily assess the profitability of each equipment item by tracking all required expenses as well as the revenue gained from its use on projects. Easily you can track equipment usage costs and analyze it. If you are gaining or losing money on a specific type of equipment it will be notified immediately.
Quick Analysis of the equipment – You can simply analyze the monthly estimated reduction for each individual type of equipment and it will be recorded automatically. With this, you are able to determine which type of equipment is still in good condition to maintain or it is time to replace it with new equipment.
Tracking the equipment inventory – Our software allows you to track the profitability, ownership, maintenance, cost, revenue and report it instantly. The tracking system will track the usage hours of the individual piece of equipment. Reports of the tracking details can easily be generated digitally in the admin dashboard.
Fully Integrated system – Our construction equipment management software is fully integrated with inventory, general records, purchased orders, account details, and payment gateway. With our software complete integration, you can always ensure your financial assets are accurate up to date.
Inventory Maintenance – You as an admin can easily set up and maintain regular maintenance schedules of each equipment individual with an instant notification to remind you. This helps you to better manage your heavy equipment rental business and organize your equipment with pre-scheduling.
How SpotnStay software solution support to track and manage your business
Provoke the work order – You as an admin can easily create work orders for each type of equipment you're renting in the application. The equipment work orders are tracked and report on what service was performed and when, as well as the cost of the equipment.
ROI of the equipment – By the analysis of the equipment history, it is easy to generate the ROI of the respective equipment. It is a useful feature for evaluating overall savings or revenue increases due to a specific type of equipment.
Rented orders – Once the equipment is rented it will automatically close in the inventory. So that there won't be any mismatches in the orders. This also allows the users to know the equipment availability with you.
Incident charges – This allows the admin to add the fuel charges, transport charges, and environmental fees as either a fixed amount of a percentage for overall revenue. The cost of damage will be billed from the respective customer.
Customer's portal – Allow customers to view the equipment on rent, equipment availability, review of the specific, equipment full-detailed information, and the request can be sent to the admin for the unavailable equipment.
The above mentioned are some of the features that allow you to track and manage your construction equipment rental business easily with just a few taps on your dashboard. There are a lot more features available to us that will make your rental business more unique and generate more revenue quickly.
Bottom line
Assess your equipment effectively with our construction equipment management software. With our software, you can easily maximize your investment in equipment and ensure that each type of equipment is being used to the fullest extent of their expiration period. Still, why are you waiting? Contact us by filling the below form or contact us at [email protected] and we will reach you soon.
Build Your Own Construction Equipment Rental Software With SpotnStay: