Nowadays in the modern era, we constantly use to attend an event, whether it is to be a birthday party or fundraiser to a trust. An event without an inflatable bounce house will not complete smoothly. In fact, it has also become so popular among the children and the adults in this generation. Either it is a birthday party or any other event, we people use to center around bounce houses.
Bounce houses are businesses that are generally set up in two different ways. Few people choose to rent the bounce houses to customers for a party or an event. On the other side, people use the bounce house as a business to set up to operate out of shop fronts, where they fill the fittable space with different inflatables and charge an entrance fee for children.
Okay, before getting into the Bounce house rental software and rental business. Here, let me tell you the revenue statistics of the bounce house rental business.
The National average bounce house rental price, per day or 6 to 8 hours is $238.44.
To gain high revenue with the bounce house rental business then you have to kickstart your business in Newyork and Brooklyn.
The latest survey shows that the highest revenue gain of the inflatables is $409.35 and the average revenue gain is $97.56.
Here, this blog will provide you a full detailed view of the Bounce house rental management system and how to kick start your own bounce house rental business in your region with our software. Keep reading without skipping any part of the blog to get a clear understanding of your bounce house rental business.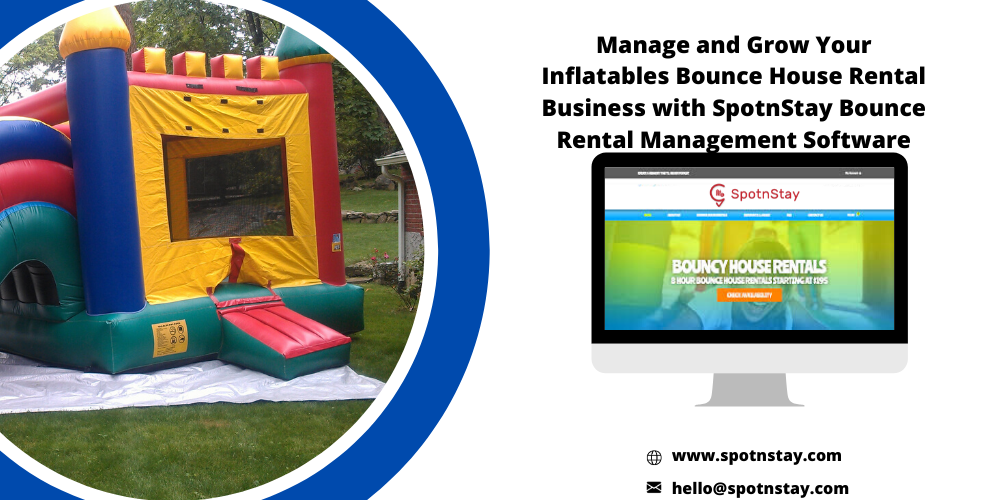 Major Advantages Of Inflatable House Rental Management Software
We people nowadays can't run any type of business without a software-based application, because people use it to make their orders from their comfort zone. So, a young entrepreneur, your first and foremost thing before starting a rental business should be application development to gain high revenue.
Here, let me tell you what all the advantages you can be tasted by using software for your bounce house rental business as follows
Easy to manage and control the inventory – With the help of software, you as an admin can easily monitor rental equipment, orders and be able to filter them according to dates. A well-developed application will have an auto-update of data this will be a plus in the rental business.
Able to track the shipment and delivery – The flexibility of the software-based rental business to keep track of all the orders and the shipments up to date with full details. The admin is allowed to track and communicate to the rentee as well as the delivery agents with in-build chat boxes.
Quick Payment process – Once the rental business has launched with the application, that not only adds the convenience of the customers to schedule and book the bounce. The customers are also allowed to pay their rental easily through online itself with multiple translation options.
Integration with calendar – This is one of the major advantages of using a rental application for the rental business. Where it will help you to remain all the dates with customized notifications. The integration of the calendar will quickly report you all the orders on a specific date. Therefore, you can effectively manage each of the bookings in your rental business.
The above mentioned are some of the advantages you will get benefited from using application-based software for your bounce rental business. But before starting the bounce rental business, you must have a good business plan for your rental business. By reading the statistics you might have known that bounce rental is a perfect idea to high revenue easily.
But before taking the next step you must have a business plan. Even if you don't have it's not a problem, keep reading the following and try to get the answer.
Plan your business like a Pro – As an entrepreneur, you must have a clear plan to lead your rental business to success. The hours or days you spend to plan and analyze your business, It will help you map out the key features of your business and discover some threads.
The on-going expense of the bounce rental business – Always in the rental business, the costs will vary depending upon the size and the quantity of your rental. You should also consider the cleaning supplies, labor and payroll costs, energy costs, marketing value and cost, general insurance, business insurance, Repair and replacement of damaged equipment.
Targeted market and audiences – Nowadays, many of them are hosting parties right? Majorly adults so there is always a need for bounce houses. Rather than focusing on the birthday parties, you can also target the businesses and fundraising events like graduations, family reunions, other big events for more revenue gain.
Charging the customer – The cost might vary from region to region and upon goods and services delivered. Regular inflatables average $130 for a four-hour rental, children's bounce houses cost average $90 to $240, depending upon the needs the cost varies but costing potential customers will make high revenue.
The above mentioned are the things you should be considering before kick-starting your own bounce house rental business. But with our software application, you can easily reach the targeted customers quickly. It also allows you to manage your inventory and finances of the rental business. Keep reading to know more about us.
SpotnStay bounce house rental management software
SpotnStay is a software-based application that is specially designed for the rental business. Though it is a pre-developed one it won't cost as much, we have an experienced group of developers who will develop and re-structure the application according to your requirements and the taste.
Why should you choose our software service for your rental business? We provide you with a unique solution so that attracting the customers has made it simple. Rather than the user interface designs and advanced features, we also provide you before and after launch service. So that you can get well with your application with our expert guidance.
Here let me share with you the key features that let you track and manage all your rental business processes properly without any errors in the data.
SpotnStay Unique Features of Tracking and Inventory Boost up the Profit
Contract management – Our software incorporates extraordinary features such as contract generation and management systems. These allow customers or renters to save their time by automating the contract process. As soon as the customer books the product, it sends a contract on their mail instantly.
Inventory management – With the tracking feature in your bounce rental business, all your ordered and rented stocks of the inventory are easily tracked. This feature helps you to track and manage your inventory in real-time without any lack in the process. It also gives an instant remainder when there is no stock left.
Inhibits the multiple booking – It gradually notifies the customers when they accidentally book the same product twice or more unknowingly. This feature enables you to immediately remove multiple orders and it also eventually prevents the locking of inventory assets quickly.
Financial management – To keep your rental business profitable, it is a must to keep the stock flows in check. Either it is from purchasing equipment or bouncer cost. This also allows you to manage all your rental financial data like employee fees, shipping, and maintenance. These will make your work easier.
The above mentioned are the few of the additional benefits of using our software application. Rather than the advanced features here let me share with you the flexibility of our software revenue models. That will allow you to gain more revenue in your bounce rental business.
Gain high profit with SpotnStay bounce house rental Revenue models
Renter's Subscription – You as an admin can also cost your renters as a subscription fee for less commission on their bookings. The renters are also allowed to pay their fees either by monthly or quarterly or yearly, as per the options you wish to cost and it will also vary according to the options.
Customer's membership – If the customer wants to get more offers and discounts from your rental application, then you can cost them as membership fees. The customers can pay their fees annually or monthly and will get good discounts and offers in the each or selected bouncer.
Promotion fees – The renters who want to promote their inflatable house and equipment can pay the admin promotion fees for quick pop-up suggestions for the customers. So that the customers are easily able to get the good equipment easily before searching for it.
Advertisement fees – If you need a bit extra money rather than the other revenue schemes, then you can add ads of the third parties service in your application, they will be paying on a regular interval either monthly or annually according to the admin preference.
Bottom line
From scheduling to online payment, our bounce house rental software is here to help you young entrepreneurs. SpotnStay is here to help you with all your inflatable rentals process easily with all the accurate details. Still, why are you waiting? contact us today at [email protected] or by filling the below form and we will catch you soon.
Create Your Bounce House Rental Management Software With SpotnStay: