These days we Millennials are more conscious about their lifestyle and wardrobe. Rather than jumping on some random trends, they tend to find out every single aspect of the fashion and end up with some unique style that perfectly fits for them. 
This reason has made the cloth rental business quite a success among all other rental business industries. To solve the problems that have been faced by the fashion industry, the clothing rental business has become an alternative choice for them. 
Though the rental companies help you to try a wide variety of trends and styles, still they suffer from some problems to make it visible to their customers and to bring potential customers to use their trends. 
If you already have the cloth rental business in your region and you want to overcome the threats, then here is the solution for you. It can be overcome by a well-developed software application for your unique cloth/dress rental business.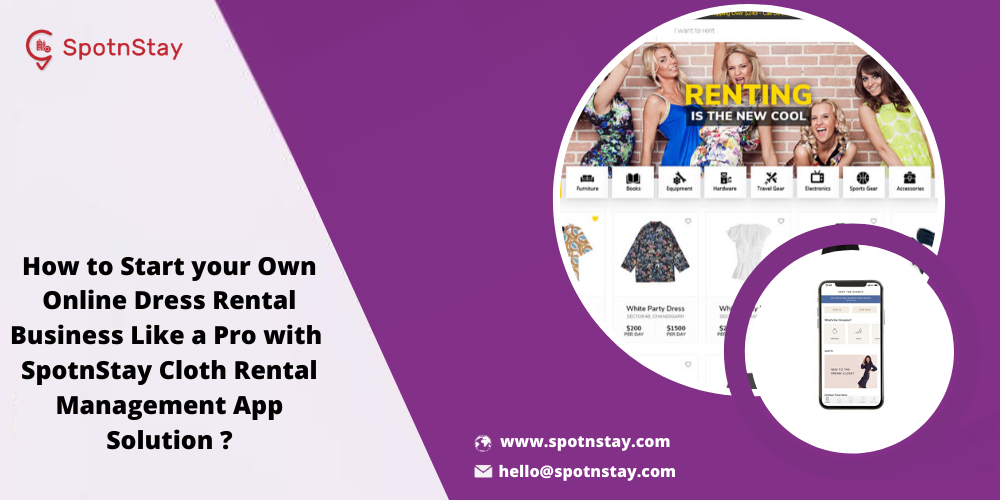 What is the Need for Cloth Rental Management App Development?
As I mentioned before millions are the main reason for the clothes rental business growth. Apart from that, there are several reasons like starting from the wedding to meeting and other social events where you can express your unique style.
If there is an urgent meeting tomorrow you don't have anything to wear for an interview then you will be buying some random clothes that cost much for a normal style. It isn't worth it, right? Here, the cloth rental business plays an important role.
You can rent a branded stylish interview cloth just for a day at a reasonable price. Most people need a temporary outfit for an event or a date. They can't keep on buying different costumes to fit themselves for the event. 
In such cases, the cloth/dress rental business aids them to have a versatile wardrobe. Here, let me explain the major threats in the cloth rental business. How software assists to overcome it. Keep reading to know more about the cloth rental business.
The major threats in a Clothing Rental Business
Dresses come in all shapes and sizes. Sometimes the overall renting thing can be all about life-size dresses and gowns (Full-package), sometimes it can be about tiny costumes (T-shirts) or just simple waistcoats.
Besides being organized the clothing rental businesses also face a problem in displaying their rental assets to the buyers because the inventory is full of all sorts of clothes.
The customer is persuaded about the fact that the clothing type that they want is in store with you, they won't visit your physical store. So here comes the visibility problems in cloth rental.
A wedding dress or a prom dress or a designer purse potential patrons want to check first what items, sizes, and colors are accessible in your inventory and then check your exact rental store.
Feedback is also a problem that many clothing rental firms face. Your customers don't spare their time for what you have. All they need is the clothes or costumes that are actually in the market (Trend).
Last but not least, transactions and keeping track of all the financial fields can also be difficult because the price of clothes varies typically as per the market rate and the designer's costs. But having efficient software can always help.
Here, let me suggest you choose us for a well-developed software that makes your rental business easier with just a tap on your store application. Keep reading to know how our software aids your cloth rental business.
How SpotnStay Clothing Rental Software Help?
SpotnStay is the modern rental booking software that will take your business to the digitized platform of your cloth rental business. You can easily monitor and check the availability of the stocks with just a click. 
Our software also makes your customers check the updated offers and availability of the products on a daily basis. If it's unavailable it will notify you the admin with an instant notification keeps you remember all your tasks of maintenance.
A unique application will be handed over to you for your cloth rental business to attract your potential customers with your user-friendly application. Well organized inventory allows your customers to pick up their needs easily.
Cataloging and Organizing – One of the major advantages of making your cloth rental business digital. This feature will showcase all the clothes and accessories with full details for your customers. Having an upgraded catalog at every occurrence will not only reduce the problem of your inventory maintenance.
Order management – Our software changes your work into digital this will minimize your workload and keep tracking all the data secure with full details along with the time. You're also allowed to accept or reject the orders from the clients just by a tap. In seasonal time there will be a bunch of orders with the help of our software, you can manage it easily with categorized views.
Offers and discounts made simple – You (Admin) easily able to modify the price tags and offers of clothes per your wish with a few simple steps. It will be to notify all your subscribers (Patrons) whenever the offers and discounts are updated. So that they won't miss any of your special offers on their favorite brands.
Quick payment process – Once you fixed the price tags and offers of your clothes. This option will make your customers easier to pay you through an easy-online payment feature and it also comes with a multi-currency feature. So that you can get customers from around the world and maintain secure it through an online payment.
The above mentioned are a few of the features in your web application that will overcome those issues. Still, there are a lot more features available with us that will give a uniqueness to your business. 
Here, let me share with you alternative ways to generate extra revenue in your business. Keep reading to know about it.
Alternative ways to generate extra revenue
Listing tools fees – You can also allow other fashion brands to tie-up with your business and they can also list their clothes and accessories in your application. Other than that if some other wants to list their clothes in your application you can charge them accordingly.
Membership fees – There are many fashion addicted people who use to rent more clothes frequently. You can charge a fee for membership to give them fast and good discounts with these membership fees you can gain extra revenue monthly.
Ad fees – You can run third-party ads on your application through this you can earn a bit extra money regularly.
Commission fees – You will get commission fees from the host persons when their clothes or accessories are rented through your application. This commission fee also can be fixed by your admin at your convenience.
Final say
A well-developed rental software will give you a great asset to your cloth rental business and it will totally change your workflow. It will improve your work performance and allow you to compete with others.
By now, you would have got a good understanding of your business application software. Do you have any doubts? Feel free to contact us today at [email protected] or by filling out the form below. Within a short period, our expert will contact you. Make it happen now.
Launch Your Online Dress Rental Business Using SpotnStay Cloth Rental Management App: