Once we upgrade our business model with the latest tech, it gradually reduces our work process and the mandatory losses. In this blog, you will gain knowledge about revenue generation for your campsite rental business by enhancing the overall experience of your camping site.
Though there are many camping platforms like hit camp, campground, etc., they are gaining quick attention from the people among other campers. Where people love to experience some new adventures in their life.
The statistics said that in 2020, the campers will increase up to 72%. The US people mostly prefer camping during their holidays. Nearly 52% of campsite booking people are millennials, this shows the young generation's love towards nature.
The popular rental platform is Airbnb which has simplified the booking of seats easily with just clicks across the world. People get more interested when we provide them more time with many choices to choose from that one.
Here make your camping rental booking one like Airbnb but before that, you must know what are the features your application should have to make your application more user friendly. Without any further delay let's start.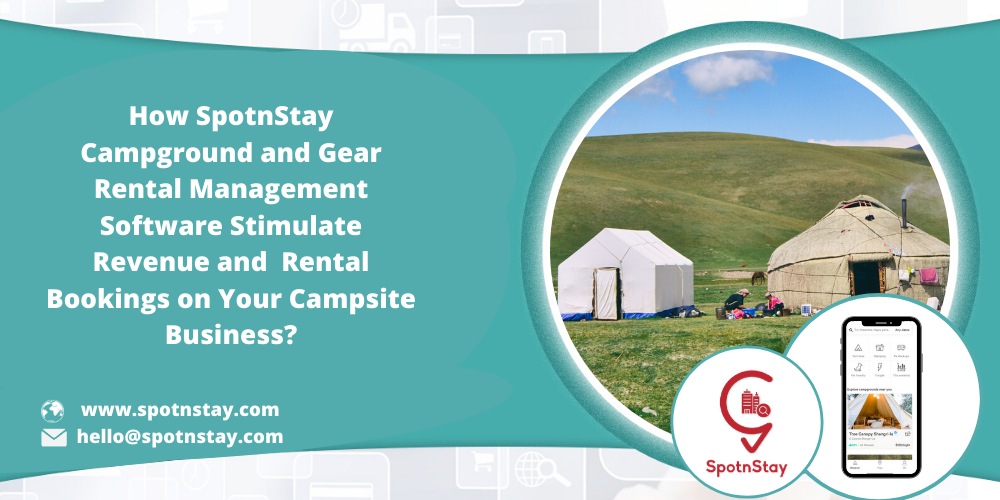 What is the Impact of Campground Management Software on Campsite Booking?
There is no exact definition of what it is and what not to be since there are many types of camping from high end to low end. A piece of land where people used to spend their holidays by tenting the camp on the ground along with all the needed facilities.
Where the campsite booking acts as a one-point solution for camping, people use to find all their camping needed things in one place. This helps the people to locate their camp with all facilities in a particular region.
No surprise before placing their bookings users go under many processes of research about your website and comparing with others. If your application looks the same as other rentals then they won't make the right decision to book the campsite/gears in your application.
Make your application more unique to attract people to place their bookings from your application. Here, let me tell you the two types of business models in camping booking as listed below, choose the one which exactly suits your business.
The two type of business model in the camping equipment rental booking
The commission per booking – In this business model, you act as an admin who can view all the working processes in a top view with all details from the user's login data to the delivery system. Where you will be benefited by the commission for each booking from your application.
Total payment without commission – This business model suits the owners of the campsites who are running their business in a traditional way or with the poor campground management software. They can get benefited from the good well-developed software application which reduces their work effort and makes more revenue without commission.
The above mentioned two business models generate equal revenue with slight differences. If you already have a camp gears booking shop, with an application you will gain more revenue with just a few clicks.
Revenue generation with an application
In this section, let me explain what is basic revenue you will be gained by using an application for your camping booking business, as listed below
On page advertisement – By playing the third-party advertisement in your application, it helps to earn an extra amount than the normal bookings. This is one of the main reasons why people use the play advertisement on their application.
Premium listing fee – You are allowed to earn revenue by allowing other parties to list in your application. You can bill them as per the number of gears/campsite they listed in your application.
Selling camping gear – There are some users who prefer to sell their camping gear, you can also allow them to sell their camping gear to get more revenue for each sale.
Commissions per bookings – As an admin, you are able to earn your revenue by getting the commission for each booking.
Here, let me tell you how our software aids you to gain more revenue with our revenue schemes. Keep reading to know more about the features and revenue schemes that take your business to the next level.
SpotnStay software amenities Govern the campsite rent business
SpotnStay is a modern software solution that will take your business to a higher level by gaining more revenue with a unique designed application. Our camping gear rental management software allows your users to book the campsite along with gears they wish to have before starting their camp.
With our seamless searching function, the users can quickly search the sites and gears that you have listed in your application with full details. This also allows them to take quick decisions, it also suggests the best offers and nearby sites for the users.
With our advanced software, you can launch your campsite and gear booking application with smart features. Here, let me tell you the working process of your application that will give you a clear understanding.
The working process of your Campsite and gear booking application
The users – The user who is looking for booking the campsite nearby, they have to sign-in with your application to check the availability and the offers in your application. They can book their campsite with gears along with the date and timing of their arrival etc. once they have done with all the booking process the payment can be done with the multi-currency features.
The campsite and gear renters – Alike users have to log in to continue with your service. Once they sign up with your application they are allowed to list their campsite and gears with the full details (location, name, description, amenities, timing, availability, pictures of the surrounding, etc). The renter has to wait for the admin approval for listing your campsite and gears on their application. Once the admin approves your requests, you're allowed to earn profits with regular bookings.
The admin – You as an admin able to manage and track all the work processes of your application. By accepting or rejecting the approvals of the users and renters, fixing the cost for listing their gears and campsite in your application.
By now, you might have got a good knowledge of how your application works. Now, let me tell you the features that are available in your application which reduces your work and gains the revenue of your campsite and gear rental booking business easily.
Features you will be benefited with our software
Multi-language and Currency conversion – The users are able to choose their preferred language and currency format from the list of major languages and currency. This feature helps you get customers all over the world and it gradually increases your profits.
Seamless search – With the interactive search option, the users are allowed to search and choose from the N no of campsite and gears you have listed. This also reduces time and effort.
Fast translation – Alike multi-currency the users are allowed to do their translation with various options available in your application in an easy and fast way. It is easy to use and makes their translation secure.
Smart chatbox – This option allows you to build a good relationship with users and the renters. where they can get clear with their doubts and offers. This also welcomes your user's default and suggests to them the current offers.
Instant notification – With the in-built instant notification option the user is able to get their offers instantly without any delay and missing offers. This will make the offers visible to the targeted customers for high bookings.
Though these processes all make your work process faster than before, this will also make your revenue growth high. We have several revenue screams which will make your business more profitable than before.
SpotnStay camping gear rental booking app revenue schemes
With our SpotnStay software application, you are benefitted to earn extra revenue by our various revenue scheme processes. Here, I have listed a few schemes where you can earn extra revenue easily.
Renter's Subscription – You can cost your renters as subscription fees for less commission. The renters can pay their fees monthly or quarterly or yearly, as per the options fees will also vary.
User's membership – If the users want to get more offers and discounts in your application then you can cost them as membership fees in your application. The users can pay their fees annually and will get the top priority by getting good discounts in the famous campsites, etc.
Property verification fees – You can also cost the renters for the property verification and also charge the fees according to their business and revenue model.
Promotion fees – The renters who want to promote their sites and gears can pay the admin promotion fees for quick suggestions for the users. This will act like pop-up suggestions of their campsites with good offers.
Final say
The idea of launching the campsite and gears in your region is the best idea where you can gain more revenue. This will be the best choice for new firms.
By now you might have gotten to know a bit about us for knowing more about us click the link SpotnStay. We have experienced a Business analyst who will guide you and take your earnings to the upper level. To contact our business analyst [email protected].

Build Your Campground Management Software with SpotnStay: