As we all know, the vacation rental industry has grown over the past few years. The number of people is also showing their interest in vacation rental business management. In the US there were 23,000+ vacation rental companies and globally there were 115,000+. Since the traveler's percentage has been increasing day by day gradually it's not a surprise that more people are looking to be involved in part of the rental market by starting their own vacation rental business. Thus the number of hotels and applications is growing every day.
The maintenance of the vacation rental business is complex and many are used to shift toward automation. Everyone falsely believes that those are applicable only for top brands. Now everything has been made possible in 2020, mostly automation is used to reduce the cost and increase efficiency at a high level. Automation allows you to organize your day to day operations so there is no need to be done by yourself.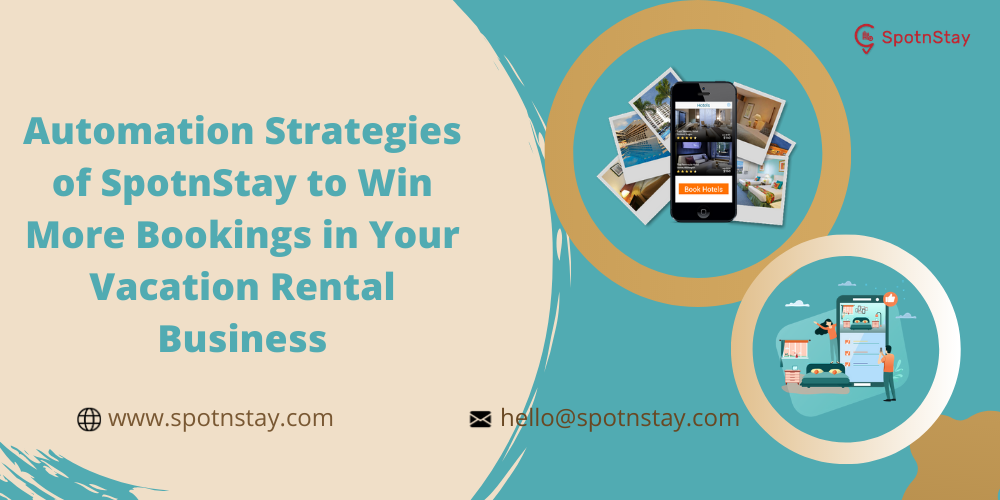 Why should you automate your vacation rental for taking it to the next level?
The automation is slowing transforming the Short-invested rental business working process of the manager or the host in the hotel. The best in automation is not only for the big companies it is also more applicable for the small investment rental too.
When automation is the norm, then how will your business overcome your competition? How can you bring your customers back to visit your vacation rental? How to win your customer's heart without spending any cost? These are some questions that will appear in every manager or the owner of that vacation rental business. Here are the SpotnStay strategies that allow you to gain more customer's experience and gain more bookings.
Automation strategies of SpotnStay to win more bookings in the rental business
The four main automation strategies that are followed by SpotnStay to win more bookings in your rental business.
Automated messages for a satisfying guest experience
Answering your guest's queries immediately will make a good impression on your rental management system. Mostly you have to respond to all their queries in a day (24 hrs) or else it is a waste or not worth your response. So it has to be quick. Most people will be checking your site for a maximum of 6 mins by scrolling and reading the rules and checking in and out. You are not going to reply to them through the mail which will automatically go to the spam section. It's difficult to respond to every message so make it easy you can. 
We will be making pre-made questions and answers where the guests are most FAQ. Which will make them clear their doubts in a short period of time. Should not make them cancel the bookings or it should not take more time to respond. 
Automated guest mix by upsell and cross-sell
By guest mix, To create powerful connections between your guest and you. An upsell is used to make booking sales more profitable. Cross-selling is to offer complementary products. This shows that you are paying your attention to them before their arrival itself. Doing it manually takes more time and sometimes it may go wrong. So we have made it automated which will automatically attach the offers once they book their rooms in your hotels.
For example
If an adult with three children means you can add free drinks and you can also attach the babysitting numbers too. This will be attached automatically once the guest books their room.
Automated marketing through OTA 
Many hotel websites do not give more value for OTA than check-in and availability options. Herewith this strategy you can make a memory of your guest by sending them OTA rather than mail. Because mail will always go to spam folder so it's better to send them a message in the app. By sending them monthly or 60 days once offer will make them irritated so it can be sent for special occasions and vacation times.
A build-in notification or a chat tool which will notify them of the offers on the vacation seasons.
Automate the booking offers for the following date
Once the guest stays in your hotel for a certain (booked) time and leaves at the right time but to make them extend their night or a day. The automated booking offers for the next day with discounts and freebies, etc will be shown. It will make them extend their stay in your hotel.
The above four are the strategies that have been followed by SpotnStay to make our clients hotel rental business with the number of bookings without spending any effort or cost just by automation.
Then the above strategies what makes the SpotnStay as the right choice for your rental business?
If you check the rental booking websites everything will be exactly the same and there won't be different than the backgrounds and many of them give wrong info that the correct OTA. We SpontStay main focus is on giving a unique website since we have years of experience in this industry our team knows all the Pros and Cons. 
Everyone is aware of Airbnb which has been used by 12 million people. When you get the exact layout of it then its a boom for your business right? Our team has an exact clone of Airbnb which is more scalable so that it can be customized according to your needs. The survey says that people will visit your website first then the mobile application. So your website should be developed by the right experienced developers. 
Bottom line
As I mentioned above all are some of the strategies that we developed for our clients to make their booking more and even better than before. Our main aim is on your growth so still why are you waiting for? Contact us today and deal with our business leads. If you have any queries feel free to ask us. Fill the following details we will catch you in short.
Launch Your Own Vacation Rental Business With SpotnStay: