In 2020, there are plenty of ideas to kick start your business in an effective way with the latest technology. Technology plays a major role in all kinds of businesses from small scale to large scale businesses. 
Without integrating technology with your business you are not able to gain profit in the upcoming years. This shows the growth of the business using technology and it also makes the people more convenient. 
By getting their needs at the doorstep and able to choose their preferred thing from the N number of lists. As I mentioned though there are many ways to take part in the business here let me suggest to you the best one from it, this will gain more revenue.
Build your own home appliance booking business. There is a need for home appliances in 2020 because people are always looking to rent their extra home appliances to the needed one to earn extra. Buying it permanently will just fill the storage when there is no regular use.
Here this blog will provide you full details about the online home appliances rental business and how it will get you high revenue by using modern software like SpotnStay. Without any further delay, let's get started to it.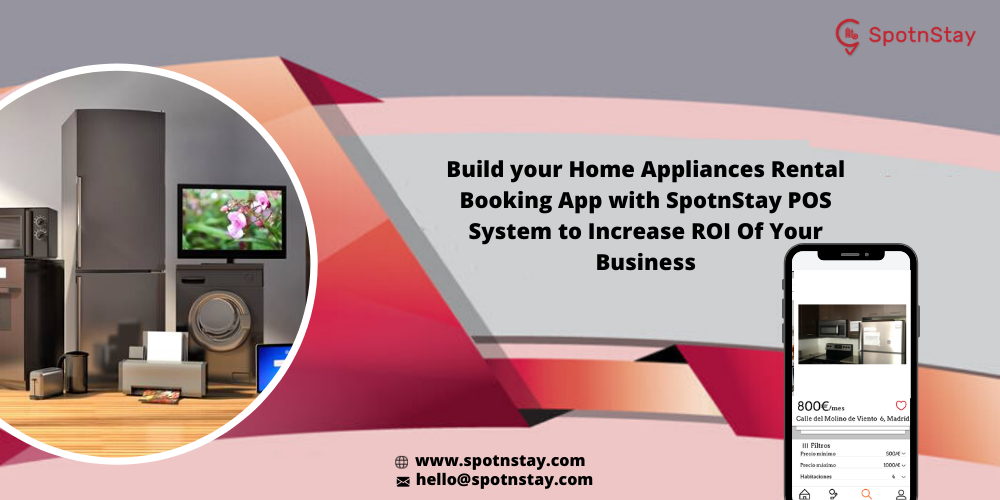 How SpotnStay Home Appliances Rental Management Software Uplifts Your Business?
Everyone might be well aware of Airbnb, it is the top no1 booking application. Do you need it alike?  a well-developed Airbnb clone is available with us. SpotnStay is a software solution for all rental businesses.
Here, we will provide a unique designed application for your home appliance booking software. If you come across three to four booking appliances mostly every application will be the same.
To drag the users, we are providing you with a unique designed application. this will 100% attract your users to place their orders quickly and easily by just a click. With the help of our software, you will be benefited from the complete control of the store chain.
Configure the special offers for festive seasons,
You are allowed to compare the business performance to get real-time business analytics,
Centralized master data to integrate the account data,
Able to manage the stocks anywhere.
If you're having a home appliance booking store in a different location then our software will be very useful for you to manage the multi-location stores. Our software fits for both the types of business
Home appliance booking stores – Where a centralized store which rents the home appliance, with the help of our software you can take your business online to get more bookings.
Connecting the renters – Even if you don't own a store, it is not a problem. With the help of our application, you can join the users who are ready to earn extra by lending their home appliances. Here you will get the commission for each booking.
What does your household appliances rental booking app do?
It will handle most of the major tasks to run your home appliance rental booking store perfectly, it also integrates with other users and services to manage their inventory from within the system. 
With speed features and functionalities, you are allowed to manage your stores from anywhere. Our software becomes your all in one integrated platform that connects your users and the service provider within an application.
Manage your customers and orders – You can easily manage your customer's order from booking to payment along with the delivery process. Every order can be done easily with transparent transactions that will impact the bottom of your business. Hence, it must be done efficiently and conveniently for the customer to book their needs. Our software takes care of managing orders, checking order status, and making quick changes if it is needed.
Able to manage the products and inventory – You are allowed to manage your inventory according to the appliance's size, color, quantity in a well-categorized form. You will be notified and made aware of the appliance stocks are low and what particular items are fast-moving. The business analysis tool to track your business process.
Easy to enhance your customer experience – Our software is meant to enable customers quickly and efficiently to find what they need in your home appliance rental booking stores. It will allow you to provide your customers with the best online home appliance rental booking experience.
How SpotnStay overcomes the key-challenges of home appliances
Over the past few years, the home appliance rental booking business has been influenced by the whole rental market industry. The users always expect nice graphical user interfaces (GUI) on smooth page scrolling. Our team designers are well aware of these expectations. 
In the rental business, there will be different types of customers. It's a bit difficult to meet all sorts of your customer's expectations. With our software flexibility, you can easily get over this problem.
A well-organized inventory will aid your users to pick up their needs easily along with the filter option high-low and low-high. The users can also sort the products by its price and rating. 
This will make your application more user-friendly and reduces the difficulty to find the right product. These are a few of the challenges that have been faced by the users while booking their rental products. 
Here let me tell you the challenges that have been faced by the service provider and how it has been overcome by our software POS. Keep reading to know more about it.
How SpotnStay POS system aids to increase your ROI
As a business owner choosing the best POS system is a good decision that has to be made before starting your rental business. SpotnStay POS (Point of sale) system will act as a foundation for your home appliance rental booking business. 
This will not only keep your user's payment securely, but it will also make your business move forward. Renting the home appliance with our software will aid you to protect your margins and reduce the operational cost for increased ROI (Return on investment).
Real-time monitoring of sales and stocks will allow you to check the product age, margins and total value of the inventory. It will act as a measure to improve your business performance by knowing the top rental products.
Just a click to modify the selling price of each appliance in the inventory, this can be changed day to day basis directly from the service provider who rents their appliances. The instant business notification will help you to zero stocks and bill editing daily.
Final Say
By now, you might have got the knowledge of our home appliance rental booking software. It simplifies your work with streamlining activities such as booking, renting with multiple options, tracking the business progress. 
Still, why are you waiting? Contact us today by filling the below form and we will reach you soon. Our experienced business analyst will guide you and take your earnings to the upper level. To contact our business analyst [email protected].
Launch Your Home Appliances Rental Booking Startup with SpotnStay App Solution: