In the modern world, Airbnb is one of the top rental applications that totally engages with customers by providing the best solution. That allows you to borrow or lend your equipment to others to earn additional pocket money easily. The renting things can be anything either heater or Ac or even a bike, it can be anything.
As the demand for the hunting equipment is increasing in the current scenario, you can quickly start your own adventure hunting gear rental business to gain more revenue in the upcoming years. The worldwide survey shows that nearly 15million people have participated in hunting in 2018.
It is also expected to grow even more in the upcoming years so that there is a high need for the hunting equipment rental business. But to start your own hunting equipment rental business you're in need of an application. This blog is all about the hunting equipment rental application. Read the blog without skipping any part to acquire knowledge about the equipment rental business.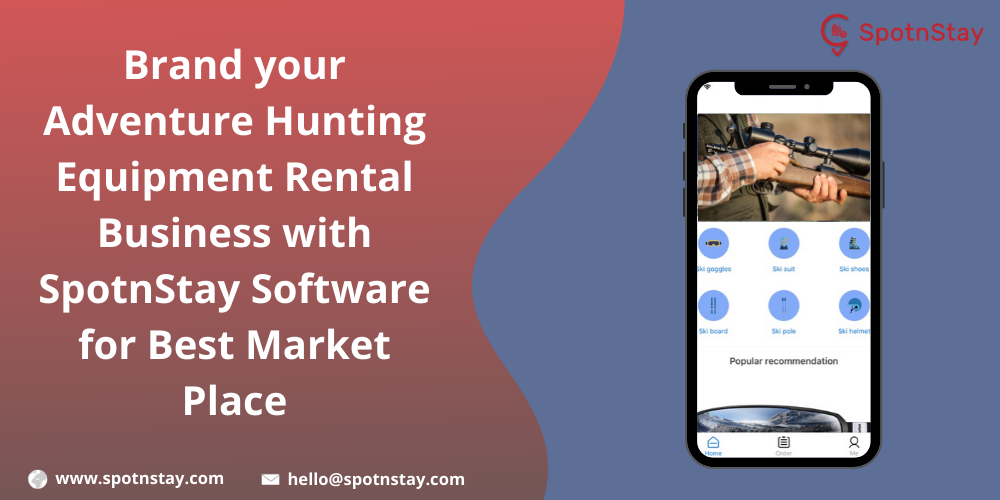 How Hunting Equipment Rental Software Manages High-End Hunting Gears?
It helps the young entrepreneurs to quickly start their own rental business in a short period of time for a high revenue gain. By signing up with the good developer's team, you will be getting a well-experienced team of developers, designers, and leading business analysts for your product design.
How does an application work for the renters? The renter (service provider) has to sign-in and list out his types of equipment that they want to rent in the application with clear pictures and price tags. They can also promote his equipment with in-build ads or through other social media. Service providers will be getting the rent request according to the customer's needs.
The service providers can accept it or reject it according to their preferences. The payment process is also made simple with an application. If you acquired a good application then you will get multiple options to manage your rental business. One such thing is available in the SpotnStay. Keep reading to know how our hunting equipment rental management system allows you to manage your rental business smoother than before.
Digitize your rental operations with SpotnStay hunting equipment rental management software
As I said before, SpotnStay is a software that has been pre-developed with modern technologies to enhance user experiences. It also reduces the workflow of the service provider gradually with automatic updates and inventory management. Since the application is pre-developed with full flexibility.
It can be re-designed according to your rental business requirements. Rather than that, our experienced designers will design user interfaces to give a unique solution to your rental business. If you check a few rental applications, mostly people will get bored by the same user-interfaces.
To make your customers engage with your application, we have used the latest design trends tools. So that your customers will easily understand and order placing also made simple. To reduce the boredom, we have also developed required features that will make the user's orders easy and quick.
Here, let me share a few advantages of choosing the SpotnStay application for your rental business.
Hunting Equipment Management – This is one of the main reasons people use to shift their business into digital. This management feature also allows the service provider to check the availability of the hunting equipment in stock. With the help of real-time tracking in inventory management, it will give instant notification on the inventory.
Stock In and Out Reminder – Other than the instant updates on the equipment in stock, this feature lets the service provider remind about the equipment out of stock. It will automatically send a reminder to the service provider before the period of the maintenance.
Flexible Price Tags – Price tags and offers are the important thing in the rental business that should be visible to all the customers out there. With the help of this feature, the service provider can easily fix a price for the hunting equipment according to their needs. It can also be changed at anytime our software has given that scalable option in the price-fixing tag feature.
The up listed are the few of the niche things that could be done with our software easily. There are a lot more in our software application that can be discussed in the upcoming section. Before getting into the detailed view of features, let me share with you how you can be fitted to this rental business with our software.
Gain extra profit in your rental business with additional revenue scheme
Commission business model – By the name of the title, you might get to know the business model. Yes, it is a commission-based business model where there is no need to worry about the maintenance cost or service cost on the hunting equipment rental business. All you are in need of an application that acts as a platform for the renter to rent their types of equipment.
This is considered as one of the high revenue gained business model here let me share with you the additional revenue scheme for this business model as listed below
Hunting Equipment Provider
Service provider's membership – It is a membership pack where you as an admin can cost your renters as a membership pack to list their equipment in your application. This can be billed monthly or annually according to your business requirements. Our application gives that flexibility to fix the membership plan according to your needs. 
Premium equipment listing – This is another revenue scheme that gives you additional revenue in your rental business. The renter who equips this plan is allowed to list N-number of pieces of equipment in the application as they wish to rent. You can also cost them monthly or annually. 
In-app Advertisement – So every service provider wants their equipment to be listed at the top or to add additional ads for their equipment. By costing this scheme, you can gain extra profit than a regular commission. This can cost on a regular period of time since it is the ad. You can also change the fare on the seasonal time for more profit. 
Hunting Equipment Consumer
User's subscription – Alike renter's membership plan, this scheme is for the customers who are in need of the hunting equipment at good discounts. On adopting this plan the customers will be getting good discounts on each equipment than a normal one. You can also bill them on a monthly or annual basis.
Advanced equipment filter – Rather than the subscription plan, this also gives the additional benefits to your customers. This allows them to quickly search the best results of the exact hunting equipment in good conditions and top service providers without fail. This feature gives them the best results.
P2P business model – P2P business model is nothing but it is a direct rental process. There won't be any third party involvement. If you're running a traditional hunting equipment business, then you can adapt to this business model to bring visibility in your region and across the sea with the help of our software.
As I mentioned before in this business model, you won't have third-party involvement so that there won't be any service provider. So you will be having the consumer's revenue schemes and additionally, you can tie-up with any cottage by advertising their service in your application for gaining additional revenue.
Get the full benefit of SpotnStay modern key-features that blow up your rental business profit
Social media integration – People get bored when your application has the long process to place the order. By taking that in our mind, we have included the social media integration that gradually reduces the login time and sign-up process quickly. With the help of this integration process, the rentee can share their reviews too.
Quick order placing – Alike login & signup process, the renting process also made simple with just a tap on the rental button. The rentee can quickly place the rent by filling the basket with the required hunting types of equipment. This gives a smooth user experience that also enhances visibility in your region.
Hunting equipment tracking – So once the equipment is rented to a person it is tracked with the help of this feature. It will show the full details of the person who rented when with the actual date and time. This also reminds the customers to return the date and time of the rented equipment from the respective service provider.
Multiple payment and language – We can't assure all your customers are from the current region or aware about your service language. So by taking it into the consideration our developers had developed the multiple payment and language option in your application. So that the users can choose their preferred language and payment process.
Bottom line
In the modern world, the demand for equipment rental is going higher than before so it is a good time to kick start your own hunting equipment rental software. Since our application provides you the flexibility features, business models, and additional revenue gain scheme. So that you easily gain more revenue in your rental business. To reach us please fill the below form or contact us at [email protected] and we will quickly reach you soon.
Build Your Own Hunting Equipment Rental Software With SpotnStay: