Airbnb is an excellent concept of connecting people with extra room space with customers. Unlike booking rooms online at an exorbitant rate, Airbnb helps to find and book affordable and easily accessible spaces. This concept of peer to peer sharing model is replicated for many services and this turned out to be an exciting business idea for many. We as an on-demand app development firm decided to build a base solution similar to Airbnb and deliver it to similar startups at an affordable cost. Our product SpotnStay is a basic solution that can be turned sophisticated based on the client's requirements.
Now we have customized SpotnStay for a new concept named storage space booking. Entrepreneurs shall grab this idea and make serious business out of it. Let me now explain about space storage rental now.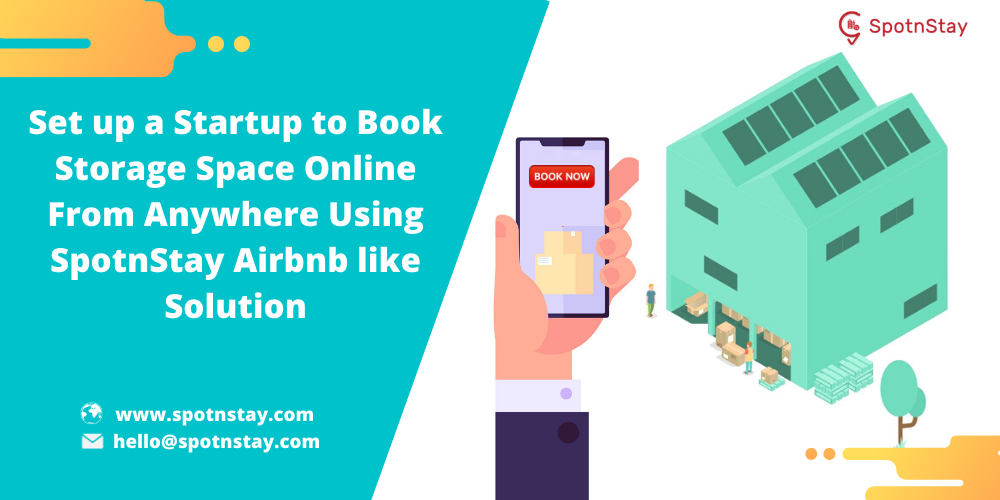 Things You Should Know About Storage Space Renting
Just like how Airbnb makes people list extra spaces online for rental, storage space rental works the same way but here the service is slightly different. Tourists and temporary residents coming to a city may need extra storage space for a limited period and a storage booking platform will be of much use to them.
This startup idea also makes people earn money without much effort. The revenue model is simple, for every booking you get some commission. And, there are multiple revenue streams that can be developed, one example is the premium subscription model.
People may have important work and they would like to have their stuff stored with a neighbor for a nominal fee. The prospects for this model are very bright and you can launch this idea with confidence.
Market for storage space rental
Already in some places in the US, storage facilities are present but it has poor exposure and patronage. Still, advanced and secured storage systems are being set up across Europe and the US because of its increasing demand.
The storage rental market is currently valued at $35 billion at present and it is expected to reach $40 billion by 2030. Not only is the demand for storage space is great but there is peak demand for a highly secured storage. So, you can step into this new market and start to disrupt. You need not think about building the app solution for this, because you have SpotnStay and it will be the right fit.
Major startup in storage space rental
Neighbor: Neighbor is the only and only startup to be present in the storage space rental/sharing domain. Their goal is to disrupt the storage rental space and be the Airbnb of storage space rental. Recently they raised $2.5 million funding from a VC. The revenue model is robust since there is not much cost involved in the maintenance of the space unlike room space rental like Airbnb. A neighbor is currently operating in the US and is planning to expand to other countries.
SpotnStay app for p2p storage rental
This p2p storage rental startup idea needs a complete app solution like Airbnb and we have an exact replica of it named SpotnStay. SpotnStay will undergo a comprehensive overhaul to make it an exact fit for the storage rental model.
We have already made a name for us in the on-demand app development market and hence making something like a p2p business idea is effortless for us. The interfaces in SpotnStay are not very different from the one you see in Airbnb. Other aspects like performance, design, interface, usability, etc are top-notch in SpotnStay.
Since we make on-demand apps with Uber, Airbnb, and Foodpanda as benchmarks, the same is being followed in the case of storage rental also. Neighbor app is used as a reference while building SpotnStay.
Features you would like to see in SpotnStay app

Space listing: Anyone who feels to earn money and has extra space of any size shall list it online with few details and the degree of security provided by the storage. The user shall also opt for premium service to get more prominence in listing.
Advanced search: The advanced search option enables the consumer to search relevant storage options in the nearby area and also displays them with necessary pics, price, and time.
Setting conditions: The listers are allowed to name their conditions independently without any hindrance.
Trusted listings: The consumer shall be able to view the most trusted listings which are based on most favorable reviews and ratings. SpotnStay algorithm can pick the prominent listing and list at the top.
Multiple storage selection: Different kinds of items with different sizes can be stored by simply specifying in the search option. Relevant results will be displayed based on them.
Ads placement: The startup owner can use the ad placement option to place third-party ads and make money from it.
Wrapping up!
I hope you are more than satisfied with the idea of storage space rental. I bet you that this will be a great startup idea and has the potential to scale to a new market quickly. And when you use SpotnStay solution for it, it is even more effortless to attain your goal.
Latest tech stack is used in SpotnStay. Laravel framework is used for web app development, Swift for iOS and Firebase as a database.
30+ unique optional features are there with us and we would like to assist you in picking the apt feature for your app. Do connect with us on [email protected]. Get exciting benefits and a live demo of the storage rental app from us!    
Start your Book Storage Rental Business with SpotnStay Now!