Normally, every musical instrument store sells new and used instruments to their customers. They also offer a list of instruments used in traditional music that are ensembles, including brass, percussion, wind, and string instruments. Rather than that, few rental stores offer electronic keyboards, upright pianos, and classical grand pianos too. 
They may also rent the instruments for rock bands such as guitars of both the acoustic and electric, bass guitars, and drum kits. Music instrument rental stores typically also carry sound reinforcement equipment such as speakers, amplifiers, mixing consoles, and microphones. 
The revenue of the Musical Instruments rental is segmented an annual amount to US$33,046m in 2020,
The music equipment rental market is also expected to grow annually by 7.2% (CAGR 2020-2023).
This blog is about the music equipment rental business and how to increase your rental business revenue easily with our application software. Keep reading to know more about the musical instrument rental business and why you're in need of an application to take your business to the next level.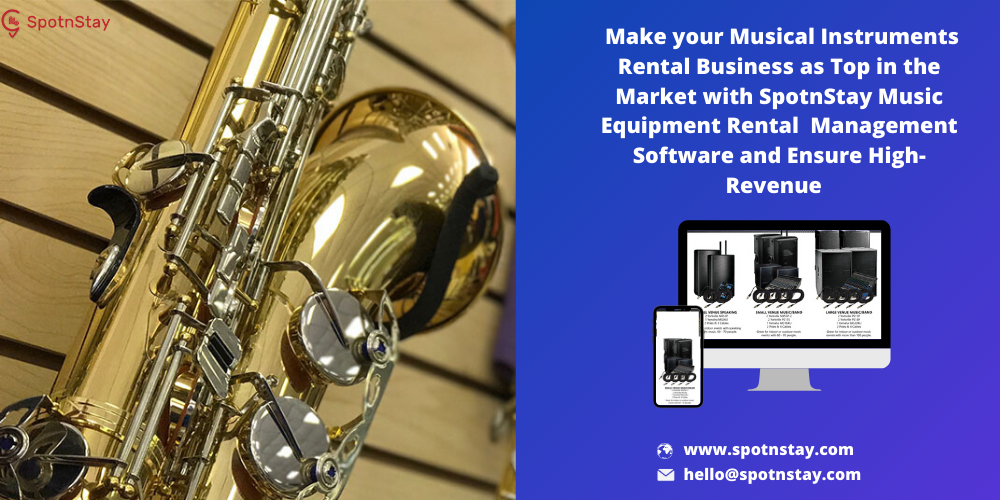 Why Should You Start Your Musical Equipment Rental Business Today?
Music equipment rental is the perfect business idea to kick start it today, and now you are ready to take the next step. To start a business just registering it with the state alone is not enough. Rather than that, you should have a perfect business and revenue with the right targeted market. After that, we have put together to start your musical gear rental business. 
As a young entrepreneur, you must have a clear plan to succeed in your rental business. It will easily help you to map out all the specific details of your business like cost, maintenance fee, showcasing cost, targeted customers, revenue schemes, etc. By planning it correctly, it will also let you discover the hidden threads in your business. 
Your primary customers might be the parents looking to get their kids into music and music enthusiasts. Is that? You can also rent your instruments to the music institutions or academy and events planner. Expanding your targeted audience will let your revenue grow easily and you easily gain high revenue in a short period of time.
The cost of beginning a musical instrument rental shop will differ from place to place, it also depends on the inventory you carry. Think about paying the rent, lease, and utilities, you will need maintenance of the equipment regularly. These all will cost a lot of money to run a rental store and inventory management is the toughest thing in the rental business.
Inventory investment can vary; an average store will cost gradually about $50,000 to $100,000 in inventory. You should also consider the cost that you're investing so that you can fix the revenue goal for your rental businesses. That allows you to track your business goal easily and helps you to improve your rental service constantly.
But with less investment, you can easily quickly start your own musical instruments rental business today. All you need is an application-based solution to kick start your rental business. Keep reading to know why you should consider an application for your music equipment rental startup.
How an application-based service will help your rental business
An application-based rental business allows you to explore the untapped resources by going beyond the boundaries of traditional music equipment rental business. It realizes the dream of becoming successful young entrepreneurs in the rental industry market within a short period of time. Here I have listed few have the things that let you manage your rental business easily as follows
Customer feedback management – It allows the rental owners (admin) to maintain the flow relationship with the customers by timely resolution of their every query and complain of your musical equipment rental business. It also enables them to easily communicate with you as an admin and respond to their feedback from a single dashboard.
This lets you improve the customer's loyalty easily and quickly on the starting period from your rental business. Believe it or not, the feedback or review about your rental business comes from the customers. We, will let you enhance your rental business services by improving the delivery system and customer's expectations.
Inventory management – Musical equipment renting application includes renting Afghani guitar, Alghoza, Accordion, Bagpipes, and other equipment, most events warrant renting as a whole package. The application allows you to rent your items and allows you to track each of them separately or as a single order.
It enables you to monitor, track, locate, and count each of your inventory items at any place with this single dashboard. Control and manage each of the musical equipment rental items from the moment of delivery to onsite with an application easily.
The above mentioned are a few of the benefits that you will get from acquiring an application for your music equipment rental business. Before getting into the music equipment rental business, all you need is an application. Here, in SpotnStay you will get a well-developed application at an affordable price. Keep reading to know more about us.
SpotnStay music gears and equipment rental business software
SpotnStay is a software-based application solution that lets you manage all the tasks with just a tap. Our music equipment rental software is a pre-developed application with all the advanced niche features so that you are able to manage, and track everything instantly without any lack.
We also provide you with the best leading service with pre and after the launch of your rental application for a certain period of time. Since our rental application is more flexible, it is easily able to restructure the features according to your requirement quickly. You can easily track all your business details digitally.
Here, let me tell you the key features that let you track and manage your gym equipment rental business easily.
How SpotnStay music equipment rental management system features make your rental business as High-volume
Instant equipment booking – The rentee can use social media integration to a quick start with your musical equipment rental application service. With social media integration, they can easily log in and share their experience in social media. This provides a smooth and consistent booking experience that enhances your visibility.
Easy to track and monitor – The admin and the renter can easily track and monitor the rentee and the music equipment in real-time. The admin can also track all the users and their full details will be displayed on the dashboard. This lets the admin have easy access and navigation to the location.
Seamless multi-payment option – This feature makes your customer's payment method easier than before with the integrated multi-payment gateway that enables all the payment methods for the convenience of your renter and rentee. Once the payment is over, it will generate a digital slip for the rentee and renters' reference.
Review and feedback – This is one of the major things that let you improve your rental business service constantly. It allows the customers to know about the service provider and their service. This also lets the renter understand the customer and vise-versa to improve the performance of the rental business.
Dashboard Management – The service provider is able to manage his/her dashboard by listing the types of musical instruments available along with the offers and discounts in a detailed view. This lets the rentee check the offers and discounts on the specific instruments. This also lets the service provider know about the available stock and rented stock easily.
SpotnStay music equipment rental software Revenue model
Though the business model is to rent the equipment to the required people for a certain period of time to gain the amount. Is it the only solution to gain revenue in the musical instrument rental? No, there are a variety of ways to increase revenue by using SpotnStay software. Here I have listed few as follows
Music Club membership – This is one of the high paid revenue models that allow you to rent your musical equipment to the music club. Once they are ready to tie-up with your rental service they will also be benefited by the listed scheme
Membership management – This fully automates the application process to help your new members to get the best offers and discounts on each equipment. This scheme is active on a regular basis so that they have to pay monthly or annually.
Paid Promotions – Once the club directly ties-up with your rental business their club advertisement can be displayed in your application regularly. Or else they have to pay the fee to advertise their music club in your application.
School membership – You can also invite the schools in your region to tie-up with your rental business. So that they can get worthy offers and discounts on their school event time. Rather than that, it will also help their students to acquire knowledge on different equipment according to the student's interest.
Music institution membership – Music institute is nothing but it offers a wide variety of music degrees. You can invite them to tie-up with your rental business. So that they can get any type of equipment easily with first preference. Here they can get the whole package of advertisement and membership.
Bottom line
The average revenue in the segment for musical instruments amounts to US$4.44 in 2020. This shows the worthy time for the music instruments rental business, all you need is a well-developed application that lets you gain revenue quickly and easily. One such solution is readily available here. Still, why are you waiting? Fill the below form or contact us today at [email protected] and we will catch you soon.
Build Your Music Equipment Rental Software With SpotnStay: