Nowadays consumers are keeping on searching everything online, it may be anything either services that are nearby or the shops. The survey shows that nearly 209.6 million people from the US prefer online shopping. Because it gives full flexibility from comparing the price to browsing similar products. 
It is also expected to reach 230.521 million at the end of 2021. We used to buy everything through online stores, mainly electronic gadgets. Similarly, people are getting audio and visual equipment for rental for big events or parties. People used to prefer AV rental because it is less expensive than owning it.
If you're an enthusiastic entrepreneur looking for a rental business then we prefer you to choose AV rental business. The global survey of the events is expected to reach 10.3% CAGR at the end of 2026. This shows the demand for the AV rental business. You can quickly start your own AV rental business now without owning a physical store or equipment.
This blog is all about Av rental business and how SpotnStay helps you to stay ahead among your competitors by branding your rental business. Before getting into the SpotnStay service. Here, let me explain the reasons why you should get adopted to application software for your rental business.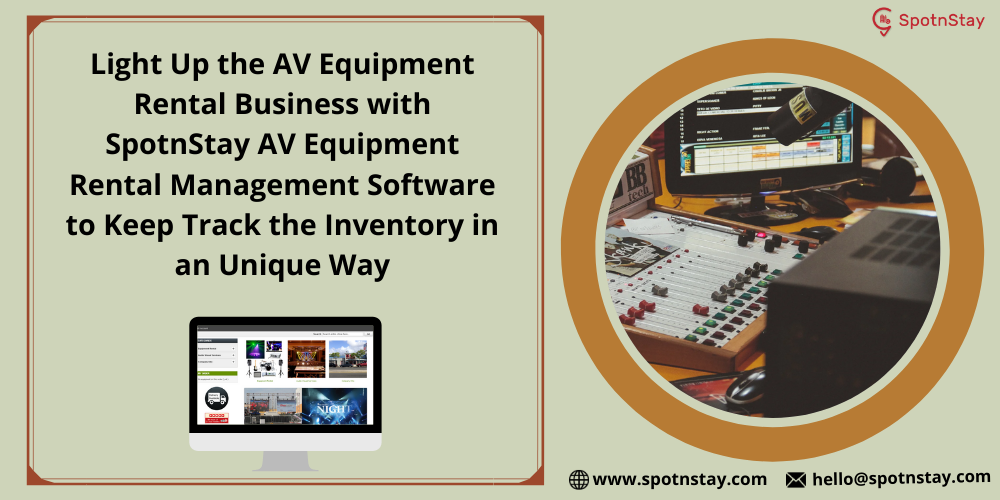 Reasons To Kick Start Your Own Online AV Equipment Rental Business Today
The global market value for Audio Visual (AV) industry is set to grow $247 billion at the end of 2024. AV rental plays an important role in every industry and it is expected to show significant growth in the upcoming years. A constant increase in the AV equipment brings the people to rent it for a certain period of time.
There are different sorts of AVs in the market that can't be identified easily so here comes the need for the software. Where you can update your equipment with full details so that customers can easily check it and filter their needs. Despite the quick rising of the GenZ people, the AV rental business has huge value in the marketplace.
To improve customer's intention – With the help of owning a software, you're allowed to track and monitor your AV rental business smoothly without any lack. This not only allows you to track the equipment but also is able to gain the customer's loyalty and gives them satisfaction. Application-based software is the key to the customer's satisfaction.
Instant success – As I mentioned before AV rental business is on the move in the industry so it is important to brand your business in your region. Because people are in need of instant access so by getting adapted to modern technology. You can provide one such solution to your customers so that they get instant equipment from your business.
Customize as you wish – Nowadays it's not like old age where you're in need of a physical store to kick start your own business. With the help of an application, you can quickly start it. This gradually gives you efficiency in your business where the customers can scroll the listed equipment and place their needs. You're allowed to customize at any time accordingly to the market.
All-time equipment status – A software application can say what are the items that are readily available in your inventory and what equipment is rented. With the help of this, you can easily draft the plan for your business. This also enables you as an admin to practice good inventory control of your rental business.
One such solution is available in the SpotnStay, where you're allowed to track, manage, update the offers and discounts seamlessly with just a few taps on your dashboard. Keep reading to know more about our service and your application features.
SpotnStay AV equipment rental software
SpotnStay AV equipment rental software enables the rental business to monitor, operate, plan, and improve your rental operations. Rather than that it will also increase the profitability and enhance your customer service. With the help of our software, you can run your rental business seamlessly with the following benefits 
Gathering customers' attention was made simple with SpotnStay software because we will be providing you with unique user interfaces. Other than the user interface designs and advanced features, we also support you with the technical service after launch for a certain period of time. So that you can get well with your application with our support.
Many might be wondering how application software can help the rental business. In our software, we have developed the features in such a way that reduce your work and maximize efficiency. Here, let me share with you the benefits that you will be attained by using our software for your rental business
Flash quotes – It's just like the warm greetings, in the rental business it is essential to treat and give more importance to your rentee/customers. Keeping that in our mind we have developed these flash quotes that let you greet your customers automatically. This can be easily modified according to your wish on a regular period.
Overview of availability – Fash quotes allow you to maintain your relationship with the customers. This overview lets you manage your equipment by checking the availability. Since our software is cloud-based it will act quickly so that there won't be any lack in between the checking process. You will instant updates on your inventory.
The remainder – This feature will send the remainder to the renter (Service providers) and the customers to return back the rented equipment. This remainder can be set according to their preference or it will default to reminding them before two days. This lets both the end-players stay on track.
The above mentioned three are the few of the niche things that can be done using our software that lets you handle your rental business easier. Once you adapt to the software-based solution for your rental business you can easily gain visibility, efficiency a lot more. Keep reading to know which business model exactly suits your needs.
Double your profit with SpotnStay additional revenue schemes 
The commission-based business model is one of the business models where you will be owning an application and allow other people to use your application as a platform to rent their products. In this business model, you will be gaining revenue as a commission for each booking. You're allowed to monitor and track the activists that take place in your application.
This Commission-based business model is considered as one of the high revenue gained business models. Keep reading to know the add-on revenue schemes that are suitable for this business model.
Renter's Subscription – In this business model, your application acts as a platform for the people to rent their product so that you as an admin can charge a bill to your renters as a subscription fee. The benefit of this subscription is they can give less commission on each booking and their valid period extends. 
Customer's membership – Like renter's subscription fare you can also charge a bill for your customer who wants to get valuable offers and discounts from your rental application. These membership fees can be charged monthly or annually. The customers will be getting more add-on perks while subscribing to this membership.
Promotion fees – The renters who want a promotion for their product and service can also adapt to this scheme. This allows the renters to promote their product as the top listed one among other service providers. It allows the customers to check your product quicker and easier to place their orders. 
Advertisement fees – Even if the renter (service provider) is not satisfied with the promotion and needs more bookings on their product means they can adapt to this scheme. This scheme allows them to place the ads on the in-build app itself. The renter will be paying the advertisement charge at a regular interval.
Premium listing – This scheme is adaptable for the customers who want the best product among N-number of products that are listing in your application. This acts like a filter process where it will list the top-rated and top-recommended products to the customers. By getting adapted to this scheme the customers can get the best service in a short period.
The above mentioned 5 are the revenue schemes that are adaptable for the commission-based business model. If you're already owning a physical store for your rental business then you can switch to the P2P business model. In this business model, there is no third-party involvement so that no commission fare will be charged for each booking. 
If you choose this business model you are able to make a few revenue schemes that are applicable to the customers only. But you can invite and tie-up with the schools, events, and parties for your AV rental business by advertising their source on your platform. This will be beneficial for both the players. 
Still, you can gain more revenue by owning which business model that suits your requirements. Both the business models are different but they generate equal revenue with different schemes that are applicable to their demands. Here, get to know how our software simplifies the rental business with just a tap.
How SpotnStay SpotnStay AV equipment rental management system allows you to manage your business seamlessly in all aspects
Rental Contract Management – By using our software you as an admin can incorporate extraordinary features such as contract generation and rental management systems. This feature reduces the time of the rental process by generating the contract process automatically. As soon as the contract is generated it will instantly send to the renter and customer through the mail.
AV Inventory Management – Though the contract process is made simple but still, some renters are not well-aware of their in and out stock. This feature is specially designed for the renters to check their inventory and manage it according to the customer's needs. This gives full accuracy results so that you can easily check the availability.
Inhibits the multiple booking – Since your application is cloud-based it will gradually notify the customers when they accidentally book the same product more than a time unknowingly. So this feature helps you to immediately remove multiple bookings. It will also eventually prevent mismatch while placing bookings.
Rental Financial Management – This one of the niche key-features that allow you to stay ahead among your competitors. It keeps tracking your rental business revenue so that you can easily check your business growth by comparing the previous data. This feature also allows you to manage all financial data from delivery fees to maintenance costs.
Bottom line
SpotnStay makes managing your AV equipment rental service startup easier than before. All you need is to upload all your inventory and make sure you enable the offers on the equipment. Every time you can check your inventory storage and manage according to it. It will also notify the admin about the customer's view (search history).
So that the service provider can get adapted to the customer's needs quickly. Make your brand today with our application service. Reach us by filling the below form with your business requirements or contact us at [email protected] so that we can catch you with a good solution based on your requirements.
Build Your Own AV Equipment Rental Software With SpotnStay: