The current mindset of every youngster is to get anything at a reasonable price with plenty of offers. Here comes the rental business, where you won't be owning anything but you will get used to it for a certain period of time at fewer prices and return it back once the need is over. Sounds good right? Yea, one such business is an artificial flower rental business.
You might be wondering if an artificial flower rental business is worthy to gain revenue. But the answer is yes because nowadays we throw many events or parties. Most people prefer to rent an artificial flower to decorate their events. This majorly happens in marriage for the bride and decorating the place.
The market value for the artificial flower rental business from 2019 to 2023 in USD is 331 million. It is also expected to show a growth rate of 4% CAGR at the end of the year. The survey shows the worth of the artificial rental business in the upcoming years. This blog is all about artificial flower rental business and how you can gain additional revenue by using our software.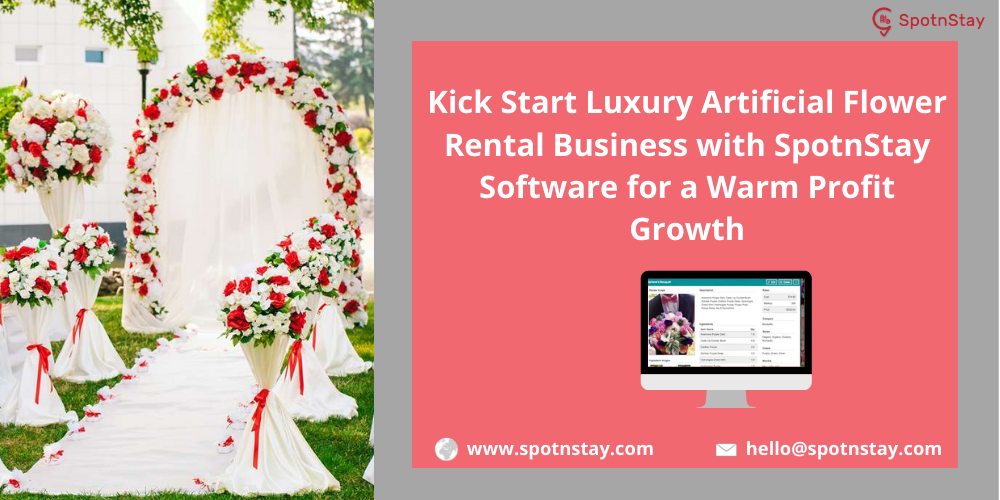 Become An Entrepreneur By Starting An Artificial Flower Rental Business In Your Region
Before you open an artificial flower rental business in your town or region, it's valuable to determine how strong your business will take place in your region. When it comes to artificial flower rental startups, it carries huge financial risks and concerns. Without a proper analysis of your business worth in the region, it's hard to predict your rental market value too.
When it comes to financing for your rental business, it requires at least consideration of the possibility of setting the plan for inventory and all other things. You as a young entrepreneur would have a big plan on gathering revenue. But here is the mistake everyone failed in a shortfall of the rental business. 
At present, real-world marketing has become easier than before. But it's possible once you adapted to the right software to perform a luxury artificial flower rental business. With the help of the application, you can quickly monitor all your rental business processes. A well-developed application will auto-update all your rental business data in a centralized dashboard. 
This is the flexibility of the software-based rental business, that helps you to keep tracking all your rental ordered shipments up to date with accurate details. In your rental business software, you will be acting as an admin, so that you can track and communicate with your rentee and renters.
This is one of the major advantages of using rental software for your artificial flower rental business. One such solution is SpotnStay artificial flower rental management software where you're allowed to customize according to your business needs. Keep reading to know more about our service and your rental business software.
Make your business more luxury with SpotnStay artificial flower rental software
When it comes to software solutions for your business, then the tasks that to be performed in the business are made easy within a few taps. That's why all the entrepreneurs are looking forward to it. Moreover, it also brings your business visibility. Opening an account in social media won't gather revenue.
Having an online presence using an application brings you high revenue growth and it gives good user experience to your customers. Once your application is built or developed in such a way to make your people engage more than a normal period of it. Then, no doubts you're leading to your success. 
One such unique interface solution is available in SpotnStay artificial flower rental management software. Our developers had a clear plan to simplify our client's work simpler than before so we have developed your application in such a way. It allows you to track and manage all your business tasks from one centralized dashboard.
We also get to know that your entrepreneurs will be taking hours to choose the right developers to develop your application but that literally takes more time. We have pre-developed your application with needed features and revenue schemes. Since our team has developed it with full flexibility, it can be customized at any time according to your business demand. 
SpotnStay acts like an all-in-one solution for your rental business. Here, let me say about the business and revenue model of our software.
SpotnStay featuring new revenue schemes to generate more revenue
As I mentioned above, our software is more flexible so that it is fittable for both the type of business model either it is a commission-based business model or P2P business model. Our software is more flexible for both types but the revenue schemes will differ according to it. Because in the commission model, there will be the third party involvement so that you will be getting additional revenue by the following 
Service provider's membership – Basic plan for the renters who want to rent their products on your platform. The membership might be annually or monthly it will be decided by the admin. Since it is a basic plan with limited facilities, the renter can also get adapted to the next plan too.
Premium flowers listing – This is an add-on package where the renters are allowed to list N-number of artificial flowers. By providing more rental options the customers will easily get everything from one service provider itself. To make the customers rent your products, you can pay a fare for advertisement.
In-app Advertisement – This is just like an in-app marketing tool that allows the customers to prefer your flowers as the first choice. This in-app advertisement brings visibility to your products. This plan will bring more profits to the renters (service providers).
The above mentioned are three revenue schemes that can be billed from the renters for using your application platform to rent their products. Even if you're not satisfied with those schemes, there are two more additional schemes for the customers by adapting to these you will get add-on profit.
Customer's subscription – This scheme is exactly like a service provider's membership plan, this is a basic plan for renting the flowers from your platform. This plan allows the customers to use filter options and the customers will get additional offers. By getting additional offers and discounts, they can get everything at a lower cost than others.
Premium filter – If the customers want to get more accurate best results for their search results, then they can get adapted to this plan. By getting this plan, they will be given the best search results. Like other plans, it can also be billed according to the admin's wish either monthly or annually.
If you're getting adapted to the P2P business model then there won't be any third party involvement (additional service provider). So that you aren't able to get adapted to all the revenue schemes that are listed above but you can get tie-up with the event managers. By advertising their service on your platform.
That allows you to get the additional revenue as well as more renting orders from them. Rather than that you can also tie-up with school, colleges, party arrangers, etc. By tying-up with them, you will get more orders and you will easily gain revenue without the third party involvement. Keep reading to know about the features that smoothify your rental business.
How SpotnStay software attributes make your rental business to bloom easier than traditional 
Service registration – Since our developers are more concerned about the revenue growth of your business. This quick service registration has been integrated so that your customers can quickly register with your application to continue with your service. With the help of this feature, they can also share their experience with their fellows.
Rented Order Management – This is one of the niche feature benefits you will gain once you upgrade your business with an application. It allows you to track and monitor all your rented items with full accurate details. It will also notify you about the stocks that are in and out or needed to be filled.
Rental Collaboration – Your application would become a trustworthy platform to communicate with the renters (service provider) about the price and other details that are needed. This allows the service provider to handle their rentee and their rented stuff, if there are any doubts the rentee can contact the renter through this.
Automatic Notification – In the rental business, quotation plays an important role, it allows the offers more visible to all the customers but is all your offers are reached to the right customer? No, maximum offers end up in the spam section. But by using our software in-build offers and discounts will be directly sent to the rentee's chatbox.
Cloud-based solution – You are allowed to access either information about the rented item or about the customer's detail. Everything can be done from your centralized dashboard from anywhere. There is no limit you can access it from any device without any lack in between the process.
Multiple payment and language – Since you're starting your rental business across the sea or to the nearby region means, we can't assure all your customers are well aware of your service language and payment method. This feature allows the user to choose their preferred language and payment method from listed.
Bottom line
Adapting to an application-based solution will rectify your complication easily. One such solution is available in the SpotnStay by now you might get to know about our software and our service. Artificial flower rental is one of the booming rental businesses in recent years because of the Gen Z people and event arrangements. 
If you kick start your own online artificial flower rental business today you will be gaining more profit in the upcoming days. To share your business requirements please fill the below form or contact us at [email protected] and we will catch you soon with the right solution for your business.
Build Your Own Artificial Flower Rental Software With SpotnStay: