During vacation, staying at the hotel is typically boring. However, choosing a houseboat to spend your vacation is quite different and gives you a unique experience. This gives a much more interesting and memorable experience for family and friends. To take such vacation plans and booking such a service. 
The market survey has been expected to show a growth of houseboat rental at 4% CAGR from 2019-2027. The demand for the houseboats rental business is high at the seasonal time and moderate at the non-seasonal time. But with the help of an application, you can boost the rental business even higher than before.
This blog is all about the houseboat rental startup service and how our application ley you to start your rental business at an affordable price to gain more revenue.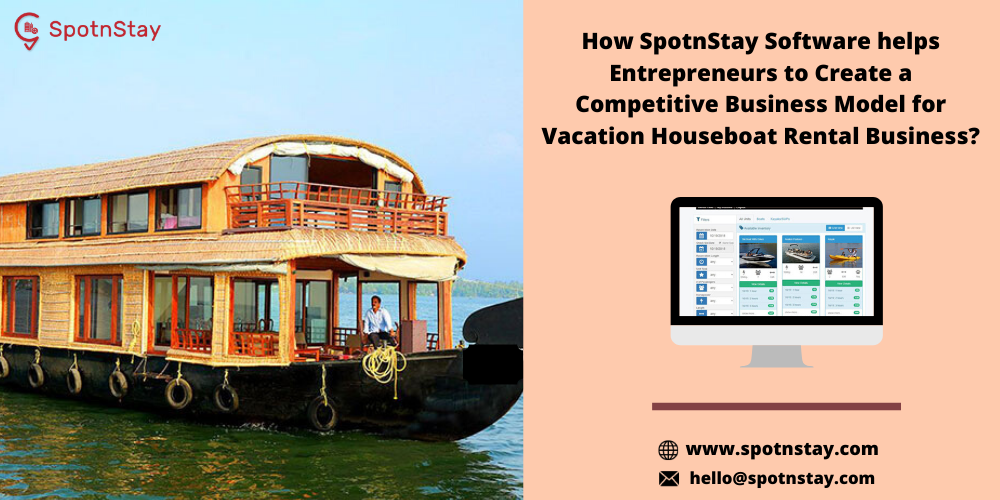 Important Data You Should Know Before Starting A Houseboat Rental Business
One must in need of a platform to showcase their service and other details but still, there are few people who use to run their houseboat rental business traditionally without an application platform. With the help of an application, they can get more bookings, as well as their service, which will be visible to other region people too.
Other than that people are looking for a houseboat to get some privacy and happiness. If they are staying in a hotel they won't be getting privacy and much happiness. But a houseboat gives happiness as well as privacy for the vacation guest. There are plenty of offers and options in the houseboat so that people are able to enjoy a variety of activities.
A company or the service that holds software to list their service and variety of boats. Let the customers check and it helps the guest to make their choice according to their convenience. They can also go through the previous customer's comments to know about the service and quality of the houseboat.
Most of the customers won't get free time to check their needs at the needed time. So they use to check their requirements at the after-work hours only. When you get adapted to an application based service they are able to get their needs at any time without fail. Therefore customers will be looking forward to placing their bookings.
SpotnStay profitable houseboat rental management software
Are you running a traditional houseboat rental business? Then you can easily get adapted to our software application for rapid bookings from potential customers. Yes, you're allowed to get constant houseboat bookings with the help of our software user-friendly interfaces. You might doubt that our application is only for the existing entrepreneurs? 
But unfortunately no, our application has been developed more flexibly so that anyone can get adapted to it. Even if you're not an entrepreneur or running a houseboat rental business in your region. You can get our application customized according to your business model or demands. So that you can start your business without any compensation.
Other than the application, what will you benefit from the SpotnStay software service? We provide you a complete service so that even if you don't have the technical knowledge, not at all a problem. We have developed our application with understandable icons. Therefore any age of your customers can quickly place their bookings.
Though the SpotnStay houseboat rental management software is a ready-made software solution, you're able to get it at an affordable price with complete service. We have experienced a team of developers who are ready to give 24*7 technical and non-technical supports to our clients wholeheartedly. 
Therefore you can quickly start your houseboat rental business in your region. You can also connect the other houseboats with your application for more bookings to get a worthy commission. In SpotnStay software, we have additional revenue schemes that allow you as an admin to gain more profit. Let me discuss it in the upcoming section before that let me share with you the key-features of houseboat rental software.
How SpotnStay enhance the online houseboat rental business in an effective way
We are well aware of the customer's mindset and their needs. Therefore we have developed each and every application in such a way to make their bookings and manage their bookings easier with just a tap.
Service activation – The first and foremost step is service activation. This process has been made simple with social media integration. Yes, we have allowed the customers to sign-up with your rental business by their social profiles. This makes their service activation process quicker and easy with their social media accounts.
Clear view on rented houseboats – One of the main advantages of using our application is the service providers can track their rentee easily. The service providers are allowed to track and monitor their rented houseboats with full accurate details. Therefore there won't be any missing data.
Rental Collaboration – To bring the trust among the customers and service provider this tool has been developed. It allows both end players to communicate with each other if there is any doubts or about the offers and discounts. This feature also allows the service providers to manage their rentee and their documents of rented houseboats.
Offers and discounts – Most probably the offers and discounts will end up in the spam sections. So this feature will directly let the customers know about the current offers and discounts instantly at their in-box. So that they won't be missing any of the offers and discounts at non-seasonal times too.
Cloud-based solution – To make the process update quickly and to reduce the mandatory process. Our software has been fully developed as a cloud-based solution therefore every detail about the rentals will be instantly updated to the admin dashboard. There won't be any missing data and mistakes in the rented data.
Multiple payment and language – To give more flexibility to the customers as well as the service provider. This feature tool has been developed so that they are able to choose their preferred language and payment process. So that other regional customers are able to rent a houseboat from your application service.
Get adapted with SpotnStay additional revenue schemes for more profit gain
To gain additional revenue other than the commission on each booking we have developed and included more revenue schemes. The service providers and customers are allowed to get adapted to the schemes which they are in need of. Each and every scheme has its own benefits as follows
Host membership – This scheme acts as a basic scheme for the service provider for using your application platform to rent their houseboats. The service providers can list their houseboats on your platform but the listing is limited. The service providers are allowed to list only a few of their houseboats. If they want to list more they can check out the next scheme.
Premium listing – As I mentioned before, this is an add-on scheme in which the service provider has to pay an additional amount to list more of their houseboats. The benefits they will obtain is the customers will get a variety of choices from one service. Moreover, the commission cost also gets reduced in this revenue scheme.
In-app Advertisement – If the service provider is not getting enough bookings at a regular interval, then they are in need of a little promotion for their service and offers. This scheme brings them visibility among the customers and lets the service provider stand above others. The customers can quickly take a look at the ads to book the service.
Customer's subscription – Like the service providers, the customers also have schemes for getting the best service from your platform. If the customers want more offers and discounts on every houseboat even at the non-seasonal time, then they have to pay for this scheme for getting additional offers and discounts.
Premium filter – If the customer wants good service from the top service provider or the best service immediately. Then they have to get adapted to this scheme so that they will be unlocking the premium filtering option. They are allowed to filter the needed houseboats immediately to place the booking without wasting any time.
Bottom line
For a fully comprehensive business, you're in need of an application that makes your houseboat rental business task automated and gives an instant solution to the customers. One such solution is given by SpotnStay. If you have traveled up to this, you might have acquired knowledge about the houseboat rental business and our software service.
The great way to place the brand in the market is a niche business model and it changes according to the region. Here, share your business demands with us by filling the below form or contact us at [email protected] so that we are able to give you the right software solution. 
Build Your Own Houseboat Rental Software With SpotnStay: