If you are looking to start a business without adequate technical skills, then I will suggest you start your own tool rental business. This blog will give you full knowledge about how to start your own tool rental business and how SpotnStay hikes your revenue.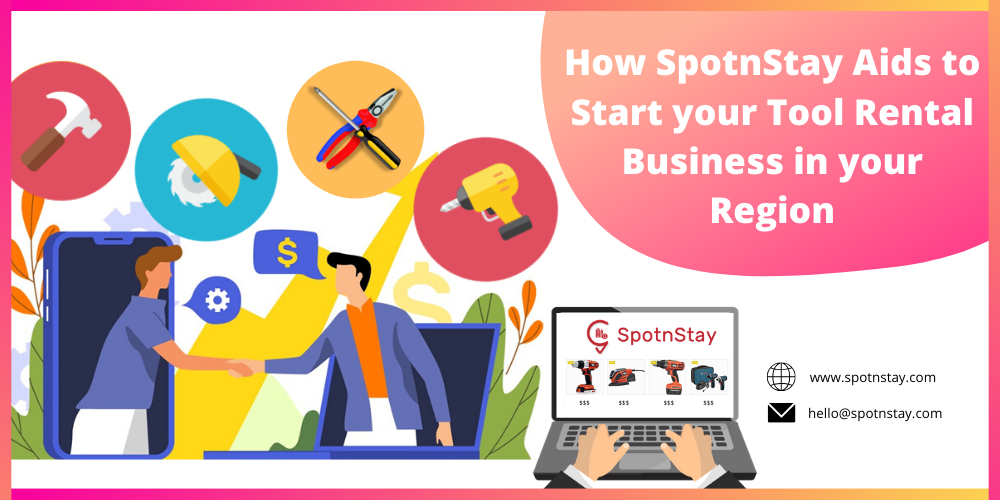 Major needs of tools
Tool rental business is one of the businesses which gives you more profit. Here I have mentioned some of the major sectors that are in need of tools on a regular basis.
Construction – This sector mostly rents bits and blades, drills, hand-held electric sanders and grinders, and air tools.
Electrical – They mostly rent tools like cable benders, cutters, pullers, feeders, and crimping tools.
Audiovisual – This sector rents wireless microphones, high powered speakers, etc.
Home tools – They rent some handheld tools like cables, measuring tapes, etc.
Testing equipment – They mostly use to rent the tester.
These are the five major sectors that always use to rent the tools for their own use because in peak time only there will be more useful than a normal period. So by now, you have the major sectors which are in need of tools. Let me tell you what one should know before starting a tool rental business.
The analysis you should take before starting the tool rental business in your region
It doesn't matter what tools you are going to rent for a specific sector or multiple sectors, here is our advice which will be suitable for all types of tool rental business.
Deep survey about the Market value
The simplest way to take a quick market survey to search the answers for the below-mentioned questions.
What kind of tools are people looking for? Basic to high end?
Which brands in specific items are most and least popular among the market?
How much are people willing to pay the rent?
How many customers are able and willing to pay the exact amount?
The above-mentioned questions will make your market survey more easy and simple. Once you are ready with these answers you are able to pick up the right tools for your rental business.
Pick the right tool for your rental business
Since you are going to start it, you have to choose the right tools for the rental business so that you can manage and maintain it regularly with profit. By knowing the right choice you are able to buy it to start your business.
Buy smarter
After picking the right tool, many of them will buy the tools more to rent and earn. It will not work like that in the rental business. Buy a minimum tool according to its value. Once you get started, buy more tools that are popular. 
Find the worth deal
Since rental is your business you will be investing more in buying the tools but before buying check what your customers are preferring for old or new. If they are preferring the old ones then you are able to invest in many sectors.
Create the right partnership
Though you find the worth deal you have rented it to a person on a regular basis or for a certain period. You can join your hands with the companies so that they will be getting the tools from you and you will be recommended to many other sectors. 
Strong proof agreement
Creating a partnership is not a big deal once you choose the right partner, but you should get a strong proof agreement for your tools. So that if any things happen to your tools, you are able to claim back it.
These are some important things one must consider before starting a rental business. After knowing this if you choose to start your rental business in a traditional way, then it will be a great loss for you. Because people want everything on their phones or it should be visible on google at least. Here let me tell you some of the issues in the manual rental business.
Issues in Manual tool rental business 
In spite of rapid growth in the tool rental business, it also struggles due to a few of the issues or challenges that they are facing in every rental. Many of them still think that using excel sheets to track their rental orders are digital. However, it will not benefit your tool rental business. This makes it even harder to monitor the availability and check for the reservations. You have to spend extra hours to check and verify it. Always manual business is just time-consuming work. Tracking maintenance and scheduling also become tougher. Even finding the worth, right partnership and the proof agreement will be hard.
All these issues can be simply overcome with software that will have your business to the next level to gain more revenue. 
How SpotnStay aid to hike the revenue of tool rental business
SpotnStay is the rental software which will take your business to the digitized maintenance. Where you can monitor and check the availability with just a click. Which will also make your customers check the updated offers and availability of the products. If it's unavailable it will notify you of the admin. Here let me tell you how SpotnStay rental software is overcoming the issues.
Overview of the rental tools – which will show you the availability of the tools. It will also give you instant notification once there is no stock in your inventory. So that you will be well aware of it with it. This also allows you to manage your stock levels, you can arrange it according to your needs.
Maintenance management – it will automatically send you to remember notification before the period of the maintenance. Maintenance is the top priority in the tool rental business. Which will also help you schedule you the dates to notify you. This makes sure that your tools are sharp which is always available to rent.  
Smooth workflow – which speeds up your orders and multi-payment processing with smooth workflow. Which will also give your business a professional look. Where you are able to connect with your clients through emails for constant updates in your business. With fast ordering and payment process gives good customers experience. This makes them visit back.
Flexible price tags – When you fix a price for the drill machine at $7 per day you can also increase it by $30 per month. You can also fix a high amount if the person rents more than it will automatically discount the price.

For example – if a person's place the rental order for $450 then it will automatically calculate and display the offer at $435. Similarly, you can itself fix the discount percentage and high-end tags.
Additional Revenue streams
By using choosing our service you can be to generate multiple revenues as listed below
Listing tools fees – If some other wants to list their tools in your application you can charge them accordingly.
Membership fees – You can charge a fee for membership to give them fast and good discounts.
Host service fees – Charge those who are willing to list their tools through your mobile app.
Ad fees – You run other ads to earn a bit more.
Commission fees – You will get commission fees when someone rents your host tools.
SpotnStay is one of the leading tool rental software with unique features that aids to optimize your tool business sales with different customers. The manual renting tool business has been more successful in the past but due to the growth in technology if you didn't adapt yourself to the latest trends. Then it becomes a great revenue loss in your business.
Final say 
Good rental software will give you a great asset to your tool rental business and it will totally change your workflow. It will improve your work performance and allow you to compete with others.
By now you might have gotten to know a bit about us for knowing more about us click the link SpotnStay. We have experienced a Business analyst who will guide you and take your earnings to the next level. To contact our business analyst [email protected].
Launch your Own Tool Rental Business for SpotnSay