Investing your money in the vacation rental business will be the best idea to gain high revenue in 2020. Though the idea of investing will not be taken over the night ready to invest the dollar at the very next day. There are many factors you as an entrepreneur should take into consideration one such thing is business and revenue plan.
That will help you to influence your final decision on whether to start a business in your region or on-demand region. Without knowing how to create a business  plan, you aren't able to earn a dollar in your rental business at present. Days have been fast moving so you have to adopt yourself according to it quickly.
The vacation rental business is one of the high gain revenue based businesses in recent years with the help of the technology. More and more people are benefiting from the advantage of vacation rentals. Nearly 297.17 million total vacation rental users worldwide and $57.669 billion revenue was gained by the vacation rental business in 2019.
This blog will help you to kick start your own vacation rental business and how to design your vacation rental business model step by step. Without any future delay let us get started with the business plan. Keep reading to know more about the rental business and revenue plans.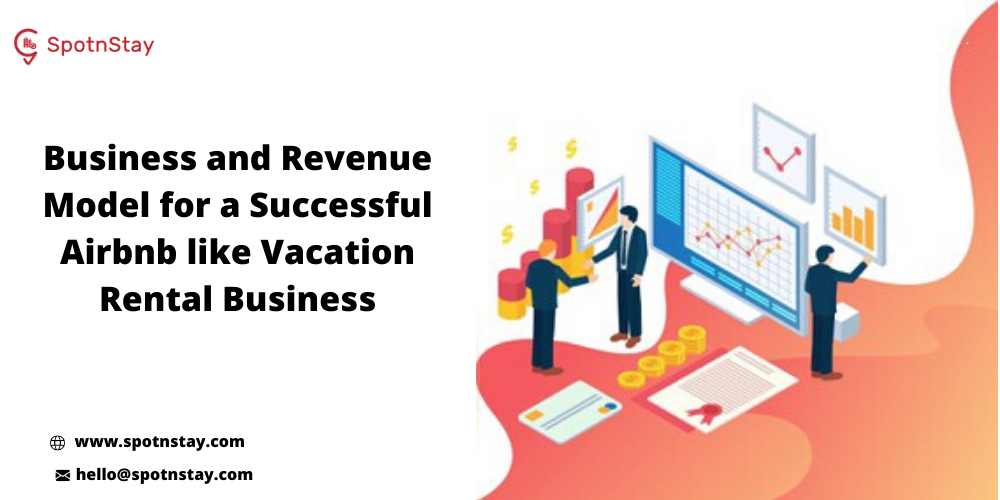 Why Should You Need A Rental Business Revenue Model?
Every successful entrepreneur has the exact business plan for their business before launching it. What is a business plan? Is there any format for it? or a readymade template? A business plan can be defined as a written document that describes the purpose of your business. It means the main thing of your business or the center path of your business either, it is rental or leasing. 
Rather than the main thing of the business, a business plan should also contain the sales and marketing strategy that you're going to get adopted before and after launch. The next thing will be the financial background, projected profit, and loss statement of your business. However, your accurate business plan can benefit from several different purposes. 
In simple words, a business plan will help you get your business thoughts organized. It can provide an exact guideline for your rental business so that you will not be stuck at any point during the business process. By building an in-detailed business plan, you will be ready to remove the least losses and get to know the mystery strategies to improve your revenue. 
As I mentioned the chances of your business success lie on the viable business plan that will help you, entrepreneur, to identify the risks before the launch. Which will in turn aid you to determine the great planning often means the difference between success and failure. Though your rental business dreams are concerned, you should do everything to reach your business goals.
Many of the entrepreneur's business plans will be like a daydream. That's because many entrepreneurs see a business plan as a simple white paper that should be filled with strategies and projections. That will help to convince the lenders or investors of the business that will not make any sense in 2020. 
Be as logical as possible because what you may have seemed like a good idea for your rental business. After some thought and analysis, it will be proved that it is not viable because of the heavy competition. Insufficient funding is another major cause.
Your online rental business model should convince you that your idea makes sense because of your planning strategies, your investment, and your effort on business success. There is no exact format or templates for a business plan but the following will help you to organize your thoughts and lay out a clear plan as to how your rental business will be successful today and in the future. 
What should be included in your Vacation Rental Business Plan?
A great business plan can lead the startups to success, if your business plan is not detailed, then it will lead to failure. Here, I have listed the key concepts that should be included in the business plan to taste the success and growth of your rental business.
Executive Summary – An executive summary of the business plan is an overview of your business. Its purpose is to summarize the whole document into key points, it will gradually save time and easily get adapted to the concept. It includes the concept of whether your business is a startup or an established business.
Many might be afraid of the business plan executive summary but it is more simple than you think. For example, when you go to a bookstore and you will be picking a book. The summary of the book describes the whole concept of it right? Like that only business plan executive summary.
A few main key concepts are connected as short sentences that will sum up your whole rental business concept. As I mentioned, the key concepts will include all of the most important information you want to get across to your guests and others. So just a glance can give the readers the whole business concept easily.
Company Analysis – A company analysis is basic information about your rental company/business. Company analysis consists of the mission statement and apparition and the goals and values. It is also known as fundamental analysis. In this concept, your main aim is to explain the Unique Selling Points (USP) of your rental business.
By performing the basic analysis of your company, you will get to know the USP of your rental business, it is much easier than you think. The analysis should be taken by asking yourself a few questions. This will help you to figure out what is the difference between you and other rental services. 
The process of conducting a company analysis involves the following steps
The first step is to find the right analysis method that will best suit your rental business.
In order to perform a company analysis, it is important to understand the expected outcome for doing it. The analysis should provide an exact answer about what is done right and wrong on the basis of the evaluation process.
The next step is to include the analysis of the internal and external factors that will affect the rental business.
The final step is to review all the results of the analysis. It is the concluding process of the company analysis by issues and determining the possible solutions to overcome it easily. By doing the company analysis will enhance your rental business, internally as well as externally.
Industry Analysis – An Industry analysis in a business plan is a tool that enables the company to understand its position relative to other companies that produce similar products or services. In business, we can't take decisions like rock, paper, scissors. Before making a decision in the rental business there should be a lot of thinking and analysis.
If you want to taste the success in the rental business industry then you need to be strategic and competitive in your rental management plan. This industrial analysis can be easily by looking at other businesses in the industry and evaluating them with your rental business.
Customer Analysis – In the rental business, customer analysis plays a major role because you're going to rent your thing to potential customers. So it is a must to know about them and their expectations. This will consist of the customer's age and the region where the potential customers exist.
They are the main reasons to grow your business with the step-up of revenue gradually without any lack in the business. If you truly get to know about your customers and what they want or in need of, then you can make sure that you and your business are always ready to gain high revenue.
A customer analysis is basically just getting to know about your customers, what they are in need of, and what they need from your rental business. The survey can be taken by the customer's age groups and their regions. So that you can target the high volume customers first.

Operations Plan – In this section of your business plan you can detail explain your business objectives, goals, procedures, and timeline. This allows you and your co-workers to make the remainder of the tactics and deadlines of your rental business goals.
This will take into consideration things whether you will be hiring any employee, what standards you will set, how you will keep track of inventory, and other administrative duties. This allows you to plan everything straightforward of your rental business. 
In simple words, this carries out the 4W's questions in your rental business as follows
Who – who is in charge of completing specific tasks.
What – what each department is responsible for.
Where – where daily operations will be taking place.
When – when the tasks and goals are to be completed.
Distribution Plan – It is a strategy that lays out the details of how you plan to get your product in the hands of your customers. Your distribution plan should consider which channels you'll be advertising you're renting business, how much they'll cost you, and how you'll manage them. To this management, all you need is a well-developed channel manager.
In simple words, it will help you to understand how you're going to advertise your rental business and how much they cost. The truth to make your rental business more successful by marketing it to the right targeted audience. Channel managers act as a tool to help you to reach your targeted customers easily and quickly.
When it comes to the cost, how it is going to happen either by PayPal or any in-build application to take that process. These things will be considered in this section of your business plan. 
Financial Plan – It is a document that contains a person's current money for business development and long-term monetary goals, as well as strategies to achieve those rental goals. These things should be asked yourself to improve your rental business and take it to the next level.
SpotnStay Business Model
The above mentioned are the business plans that should be considered before starting your rental business to achieve all your business goals. One such solution is available in the Airbnb business model that will make your rental business process easier. Hence, entrepreneurs start to search Airbnb-like business models available in the market to minimize the cost spent on new solutions. 
One such solution is available in SpotnStay, an Airbnb-like rental software solution includes all the above-mentioned practices in its business plan to make the operation in a simplified manner. In SpotnStay Airbnb clone script you will be benefited from three interfaces as follows: Admin (web panel), Host (iOS and Android), Customer (iOS and Android).
By taking the customer analysis we SpotnStay has developed features like hassle-free registration, Multi-payment, and multi-languages. Because customers are an important part to make your business successful and to gain high revenue. The in-build chat feature allows you as an admin to get connected with your customers, this gains the customer's loyalty. 
The inventory management feature allows the host and admin to know the exact details of the sales and on-demand. This lets you handle the operational plan easily with just a tap. Admin is also able to check the entire business process so that you are easily able to manage your financial plans. It lets you reach your business financial goals.
SpotnStay Airbnb clone is not only flexible for the vacation rental business, by using our application you can kick start any rental business easily and quickly, either it may be a bike or car rental or equipment rental. Our software-based application is suitable for every business model.
Here, let me share with you the revenue models of Airbnb and how our software application helps you to gain high revenue. 
Revenue model how to make money quickly and easily?
Airbnb's revenue model offers free listings to property owners and lets customers browse the listed and select the one which satisfies their needs on the platform. The business model of Airbnb is developed in such a way that the booking and transactions are done on Airbnb's platform. 
Airbnb allows the company to earn its share of the revenue from 2 different sources as listed below
Commission from the property owner (host) – They charge a flat of 10% commission from hosts on each and every booking done through their platform.
Transaction fee from Customers – They charge a minimum of 3% on the booking amount as transaction charges from respective customers on every confirmed booking.
The above mentioned are the Airbnb revenue model that have been charged by Airbnb. Why should you prefer Airbnb for your rental business? Airbnb acts as a platform that connects the renter and rentee easily. Rather than that Airbnb has more flexibility in the business model so that it can be able to adapt any type of rental business according to your needs.  
SpotnStay Revenue-Extended Model
Here let me list out the SpotnStay customized revenue models that will boost your rental business profit quickly and easily within a short period of time.
Listing fees – If some other wants to list their equipment in your application you can charge them accordingly. You're allowed to charge them a fee monthly or annually.
Membership fees – You can charge a fee for membership to give them fast and good discounts. This lets the customers get good product suggestions from your application.
Advertisement fees – You can advertise in your application by tieing-up with another service. For example – car rental means you can run the ads of car parts.
Property verification fee – You as an admin can charge the verification fee according to your revenue model. A verified one will get higher value in the rental business.
Registration fees – These fees can be collected from both of your players, For registering with your application. This lets them enjoy your application features for their rental business.
The above mentioned are the few rental business revenue model that allow you to gain high revenue in your business according to your goals. The fee can be designed according to your business goals easily with just a tap on your application. 
Bottom line
Airbnb is one of the multi-billion dollar companies that have launched their services across 190+ countries. Having one such solution for your rental business will gradually increase your business and profit. Get the exact clone script that will let you enjoy the accurate business and revenue model in your rental business too. Still, why are you waiting? Contact us today at [email protected] or by filling the below form and we will reach you soon.
Build Your Rental Business Revenue Model With SpotnStay: