In the digital era, surviving against the tough competitors has become really hard for startup owners. At least two things one should consider to get surveyed in the rental business. One of them is having an online presence that makes the rental process easier and you can give outstanding service to your customers. 
The other is location-based service also made simple with an application that automates the day to day rental task. In the rental business, customer satisfaction is more important as it provides reliable and quality service after time too. On the other hand, you're allowed to track all the complex tasks from one centralized dashboard so that it gives more convenience for the end players.
When it comes to the rental business, the recent survey shows that the golf cart rental business has more demands. The market value is projected to show a growth of 2.26 bn at the end of 2026. So if you're looking to start a rental business, then you have to consider the golf cart rental business. This blog is all about golf rental business and rental management software.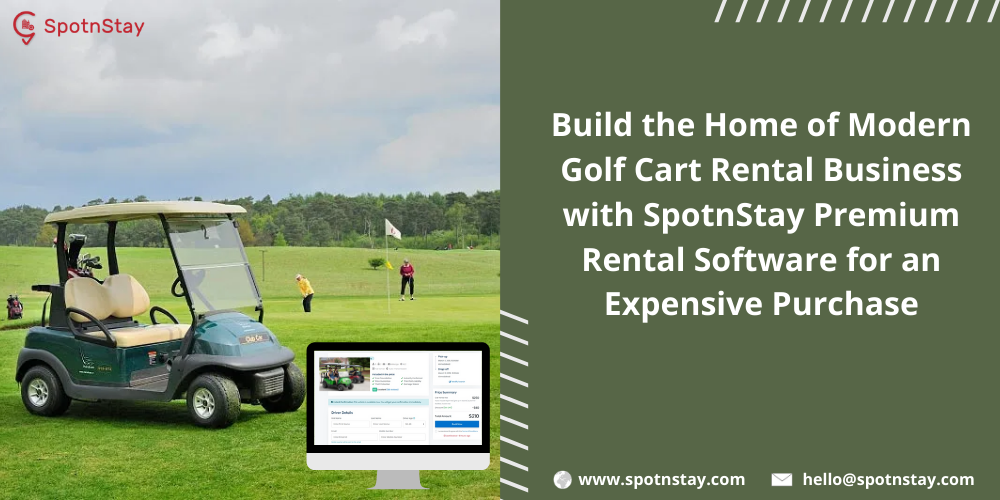 How To Get Started With The Golf Rental Business?
The golf cart is a type of low-speed vehicle that used to be driven by the help of an electric motor. It is used to transport from one place to another in the golf ground for golfers. The golfers can carry their golf gear in this, it is an easy mode of transportation in the golf ground. So golfers are mostly in need of it.
It is used to travel at an average speed of between 25 and 50 mph. While considering the golf cart, it comes in different types namely electric, gasoline, solar, and others. So for a golf cart rental business you're in need of an application to showcase all your available cart to the potential customers.
So that they can decide their needs by surfing your application. With the help of a centralized application, you can improve efficiency of your rental business. You are also allowed to take advantage of potential rental economies of scale that take place in your application platform. SpotnStay golf cart rental management software is one such solution that takes your rental business to the next level. Keep reading to know about us and our service. 
Increase the accessibility with SpotnStay golf rental software 
SpotnStay software that facilitates the golf cart rental management and rental-related tasks. Our software solution also simplifies the front desk operations, offers and discounts, tracking, and monitoring of the rental business activities easily with just a tap. In SpotnStay software, you will be getting a centralized admin web panel.
The admin panel is built from a single server so that it allows you to manage all the major tasks that take place in your application. This gives you the advantage of a risk-free monitoring system, which means the time taken is fewer in managing the application process. This gradually increases the application efficiency of the rental service.
In the SpotnStay application, the advanced key-feature assists the renter (Service provider) to know the rented calculation, pre-booked, rental inventory management, rented Golf cost analysis, and manage all your user's data (Service providers and customers). With the help of our software, unique designed interfaces you can easily attain visibility.
By getting the visibility in your region, allows you to gain the rental business revenue easily and quickly within a short period of time. You as an entrepreneur might be doubting why you should choose our application solution for your golf cart rental business. Here, take a look at our software application benefits as follows
Real-time business tracking and monitoring – This feature allows you to reduce the complexity of the user's data, rented history, rented carts, and booked carts. With the help of this tool, you can monitor your rental business on track so that you won't get any lack of reaching your rental business goals.
Organized dashboard with advanced filter – Each of your Golf carts is well organized under this feature tool where the admin/service provider can check the rented and available carts. This feature tool gives the full details of your rental business process. This also lets you filter the needed information for a quick search of the needed details.
Overview of the carts – This will show you the storage availability of the Golf cart. This feature tool also gives the service providers an instant notification about the no stock. So that the service provider will be always aware of service at any time. It also sends an automatic reminder before the expiry period of the maintenance.
Our experts do not just provide an application for your golf cart rental service startup, our developers specially design the software. According to your rental business demands, it will simplify the workload of the business process and let you manage the rental bookings. Other than a re-development of the application, what will you benefit from our service?
Here, comes our full flexed user-friendly service. Once you're ready to join your hands with us, we are ready to provide you the 24*7 technical support from our experts. So that you can contact our experts at any time and we are ready to help you wholeheartedly. Keep reading to know the add-on revenue scheme of using our software.
Cart Service Provider's Membership – This revenue scheme is for the host who rents their carts in your application platform. This is a basic scheme so that they can start their rental business in your application. This fee can be collected according to the admin either monthly or annually. Since it is a basic plan, there are limited options only for listing their carts.
Special Offers and Discount Package – This revenue scheme is applicable for the rentee (customers) they can get adapted to this business plan for additional offers and discounts on every cart. This lets the customers get the worthy offers on each cart without fail. This package can be billed monthly or annually according to the admin's needs.
Premium Listing Package – This is another revenue scheme for the service providers that give the additional accessibility for listing their carts. By billing this package, the service providers have given permission to rent more carts without any limit. If the service provider feels the basic plan is not fit for them, then they can also get an add-on to this package.
Premium Cart Filter – This is a premium package for the customers so that they can get the exact results of what they need. It unlocks the advanced search option that has been powerfully developed in such a way to give the exact results to the keywords. Moreover, it also shows the best search results only.
Cart Promotion Banner – This is a promotion scheme for the service providers, if they want additional bookings then they can promote their service. This allows them to promote their service with in-build application ads so that the customers can directly check the offers and discounts from the respective service provider.
The above-listed revenue schemes are a few of the additional revenue gaining packages that are adapted by the admin by using our application software. There are more other revenue schemes like verification fare, guide fare, etc. keep reading to the feature tools that simplify the rental business.
Run a profitable golf rental business effectively with SpotnStay application tools
Social media integration – Customers will get fed up if the starting registration takes a long period of time so we have developed social media integration for quick sign-up of service. This lets the customers to log-in and sign-up quicker and continues with your rental application service. They can also share their experience with friends through this integration.
Quick cart booking – The rental booking process is also simple so that the customers have no need to wait for a long time. This feature tool helps them to place their rental booking within a few taps. This process gives an effective user experience that helps you, admin, to enhance the visibility of your brand.
Rented orders tracking – To make the rental business more effective and convenient for the service provider, this feature tool has been developed. This lets the service provider know about their rented orders and waiting orders. They are allowed to track and manage their customer's details flawlessly.
Multiple payment and language – Since it is a rental business all over your region, we can't assure all your customers are well aware of your region language. So our developers had developed this feature tool that allows the customers to choose their preferred language as well as the payment method from the list.
Bottom line
Starting a rental business that has a high demand for now and upcoming years lets you taste the success of your revenue growth. The golf cart rental business is expected to show a growth rate of 4.2% CAGR from 2019 to 2026. But to kick start it, you're in need of an application one such solution is readily available with us in SpotnStay.
If you're here, you might get to know about our software application and the service we provide to our clients. Reaching us has been made simple, fill the below form or contact us [email protected] at and we will catch you soon.
Build Your Own Golf Cart Rental Management Software With SpotnStay: