The equipment rental business has been increasing popularity due to a variety of reasons. One of the main causes of the growth is the purchase cost. The rental business actually reduces the cost of the equipment, when it comes to rental and the maintenance cost as well as reduces the space of the storage.
This blog is all about swimming pool cleaning equipment rental business and how SpotnStay helps you to stay ahead among your competitors by branding your pool cleaning equipment rental business. Before getting into our service and software features, take a look at the things to be considered for the rental business.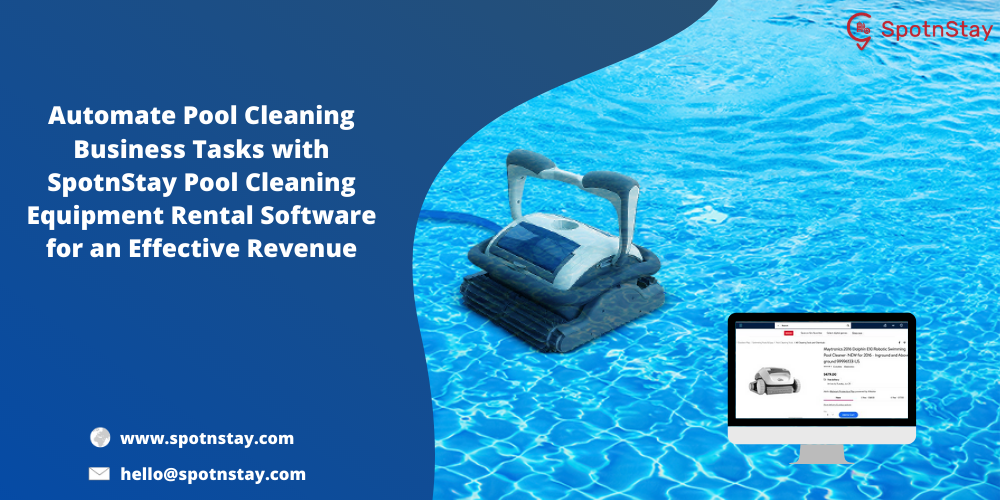 Essential Things To Be Considered Before Starting An Online Pool Cleaning Equipment Rental Business
In the United States, most people love to go swimming in their leisure time and many other preferences will be swimming pools. When it comes to keeping those things clean it will be a major business. According to the survey, it says the revenue gain equipment for cleaning pools is an annual $3 bn.
There are plenty of opportunities for the new firms to gain a higher profit at the end of this year and upcoming years too. So that there won't be any pool left uncleaned, but when it comes to equipment most of them use to rent it rather than owning it because of the maintenance issues. Yes, when it comes to water-based equipment there should be proper maintenance or else it will be left as unusable.
People used to purchase the needed equipment on the rapid things to clean their pool and many still keep their equipment in storage rooms without using it. Those people can rent their equipment to the other needed people and earn additional revenue. If you're interested in starting a rental business, then you must consider the pool cleaning equipment rental business.
The entrepreneur who is in an idea to get started with the rental business has two choices: either they can choose an application-based service or pre-developed application service. In the application-based service, the entrepreneur has to invest more cost and build an application that suits their business. 
The disadvantage in this model is sometimes there is a chance to get lost in the investment. Other than that it gradually takes time for developing an application from the starting stage. When you prefer the second type (pre-developed application) you will be getting a ready-made solution for your demands. 
So that it won't take that much time in developing and launching your service. But after getting adapted to one such solution also entrepreneurs use to find difficulties. This happens because of choosing the poor pre-developed application. You might be doubting how to find the right pre-developed application for your business.
The process is simple: you must have a list of things that you want in your application. This helps you to find the exact application that suits your business demands. Always you must have an accurate business model before choosing the application. Other than that your application should have the tracking, monitoring, estimation calculation, and other niche features.
SpotnStay Pool cleaning equipment rental management software
In SpotnStay, you will get benefited from the pre-developed application that has niche key-features. That lets you grow your business as well as brings visibility among your region and across the seas. Yes, we have developed your application in such a way to meet your customer's needs and make them market for you at no cost.
Our application also has more flexibility so that customization won't take that much longer. We have an experienced team of developers who have years of hands-on experience in developing the rental application service. Therefore we know how to gather the rentee's attention and earn the revenue. 
We also give excellent customer service to our clients. Yes, we are available 24*7 so that if there are any issues or any queries you can contact us. We are ready to help you therefore you can also grow along with us. Let me share with you the business model and the revenue streams.

Commission earning business model – As you, all know it is a transaction revenue model. Where you will be getting revenue for each transaction that is made on your platform. In this business model, you're acting as an admin where the other people use your application as a platform to rent their pool cleaning equipment.
Peer to peer business model – If you don't want others to use your application as a platform to rent their product or you're already owning a physical store, then you can take your business to the next level with this business model. Where you will be the service provider and admin to manage all the orders and track your inventory.
The above mentioned two business models have their own revenue gain and visibility. You can choose the business that adapts to your demands. With the help of our software application, you are allowed to earn a bit extra. Here, let me share with you the additional revenue streams as follows
Renter's Subscription – In this business model, your application acts as a platform for the people to rent their pool cleaning products, so that you can charge a bill to your service providers as a subscription fee. The benefit of these subscription fees is they can give less commission on each booking and this also validates their period.
Customer's membership – Similar to the renter's subscription fare you can also charge a bill for your rentee who wants to get valuable offers and discounts from your pool equipment rental application. The rentee will be getting more add-on perks while subscribing to this membership.
Promotion fees – We can't be sure about the needs of the renters so those who want a promotion for their product and service. They can also adapt to this revenue scheme. This lets the service providers promote their product as the top listed one from other service providers.
Advertisement fees – If the renters are not satisfied with the promotion scheme they can also pay for the advertisement fees. This lets them advertise their products as well as their service offers. This brings visibility among the customers who are in need of pool cleaning equipment.
The time-saving metrics of SpotnStay rental management software that enhance your rental service 
Rental Contract Management – One of the major issues in the rental business is contract management. Our developers have made it simple with this feature. This feature helps you to generate instant rental contact on the equipment that has been ordered and this will be sent to both the end-users.
Pool Inventory Management – Other than the contract the tracking and monitoring of the stocks are a must in the rental business. Here comes the inventory management tool that helps the service providers to manage their inventory and track the orders as well as the rentee. This gives them instant information about the stacks.
Inhibits multiple booking – This is considered as one of the rapid issues in the rental business. Yes, the overbooking happens due to the poor development of the application. But by using SpontStay software you can easily avoid it. This feature gives instant details on the particular equipment that is placed on your platform.
Rental Financial Management – As an admin and service provider, this feature supports managing their commission as well as the income is quite tough. To make it simple, we have designed this feature tool in such a way it helps the service provider and admin to check their financial growth by comparing the previous booking history.
Bottom line
By now, you might have acquired knowledge about the pool cleaning equipment rental business and our service. We always use to provide the best service for our clients so that they can get good knowledge about their application technically. We also hope that people's business plans change according to investment.
If you have other different plans or demands please fill those details in the below form or contact us at [email protected] so that we can reach you with a good solution for it.
Build Your Own Pool Cleaning Equipment Rental Software With SpotnStay: