People nowadays are looking to try new things and experience different transports; one of them is boating and yacht. Fortunately, many tourist cities and towns across the world are mostly in coastal areas or at least near to it. With increasing tourist population and purchasing power, it is very much feasible to launch an app-based boat rental startup.
There are two ways to launch this startup and each of them is good in its way. I will list the two ways, you choose one of them based on your present environment and resources. If you have already selected a model and looking for an app solution, then read till the end.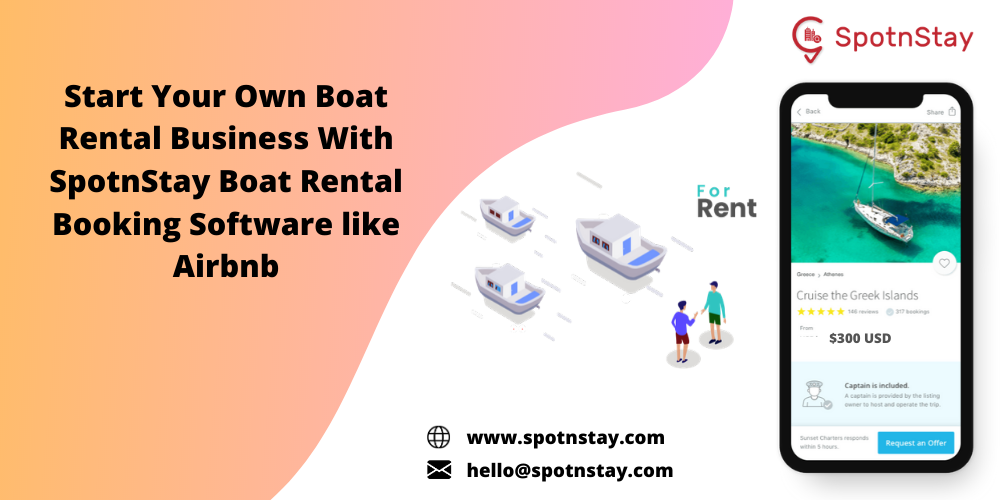 How to Launch a Boat Rental Booking Software with SpotnStay?
Online boat rental marketplace
This boat rental model is for tech enthusiasts who want to enter the on-demand sector even without much capital and experience. In this model you just design and launch an online marketplace for boat rental firms to list their service online.
Your platform is used by customers to just connect with a boat rental firms; you need not have to own any asset or maintain any boat fleet. For every booking you can generate a commission.
This model of online boat rental marketplace has gained momentum in the last five years because of the little effort required to launch and maintain.
Not to mention that the turnaround time is less than a week and then you need to work only on marketing and service provider acquisition. Revenue generation in this model is highly uncertain if the revenue model is not properly defined.
Online boat rental booking
Business person who are operating a fleet of boats/yacht and want to increase the visibility and streamline rental process shall use the on-demand boat rental model. In this model, apart from getting customers to book your service, you provide additional services to engage customers for a long time.
The revenue generation in this concept is stable and won't have many fluctuations. Host of new services can be added anytime to increase ways of revenue and expand the business.
Both the above models require you to have a niche app solution like the one you see in Airbnb. There are makers who are well versed in developing boat rental booking solution similar to the booking format of Airbnb. SpotnStay is one such maker to have a good hold in on-demand boat rental solution building.
SpotnStay boat rental solution
There is not much change in the boat rental booking solution for the online marketplace and the other model. SpotnStay boat rental app comprises of multiple interfaces with each interface having a set of features. 
Admin web dashboard
Admin dashboard is a web-based app to manage app and online bookings. Each and every information is displayed and shared in the admin app.
Captain mobile app
Captain of the yacht/boat use this app to accept requests from riders or the admin and send real-time status of location, passengers, speed, bookings, etc.
Rider app
Like how the customers use the Airbnb app to book rooms, here the same is done for boats.
Why use SpotnStay for your boat rental startup?
Fast transactions
Payments in any format, be it in cash, cards, e-wallet, and net banking, is possible anytime with much speed. Transparency is increased and the operator shall have control over the cash flow.
Fleet management and maintenance
SpotnStay also comes with a function to manage fleets and oversee the maintenance schedules. Complete control over this is present in the admin panel; this function allows the startup to run effectively without wastage of man-hours.
Less manual work and more automation
Bookings are handled automatically and there will be no confusion in no of seats booked. Assigning a capital and dispatching a boat is automated. Scheduled bookings, recurring bookings are synced with the system to avoid last-minute hassles.
Prospects of online boat rental booking
The online boat rental booking concept is relatively new and especially when there is much scope it is better to start now. The Tourism sector is not showing any signs of de-growth in the years to come. So quickly get into this business model and become a market leader.  
In order to make the most out of this business concept, I strongly urge you to use SpotnStay solution. SpotnStay gives you an edge over others in the same sector. 
Scalability, design, performance, and user interface are some areas SpotnStay is better in every aspect. Fortunately, these are the areas that influence the success of on-demand apps. SpotnStay aids you from start till the end and we have so much to offer in 2020.        
Wrapping up!
I think you need to get more details about SpotnStay, then ping us on [email protected] or call us anytime to be picked by our business executives. We are looking forward to joining with you.
Launch your Boat Rental App Solution with SpotnStay: