For every minute 20-25 people migrate to different places in search of better opportunities and changes in lifestyle; this data is for countries in Asia. A step further, many people migrate to western countries because of its culture and bright prospects. These people had to buy all the furniture and other basic things to fulfill their necessity; the problem starts when they move to another place and sell the furniture and other items, the selling cost is less than 10% of the money they spent.   
Problems like this make people avoid moving to different places and the result is they end up leaving golden chances. If you are an aspiring entrepreneur, can you sense a business idea in this? Why not turn this never-ending problem into an idea? What about a furniture rental and leasing startup?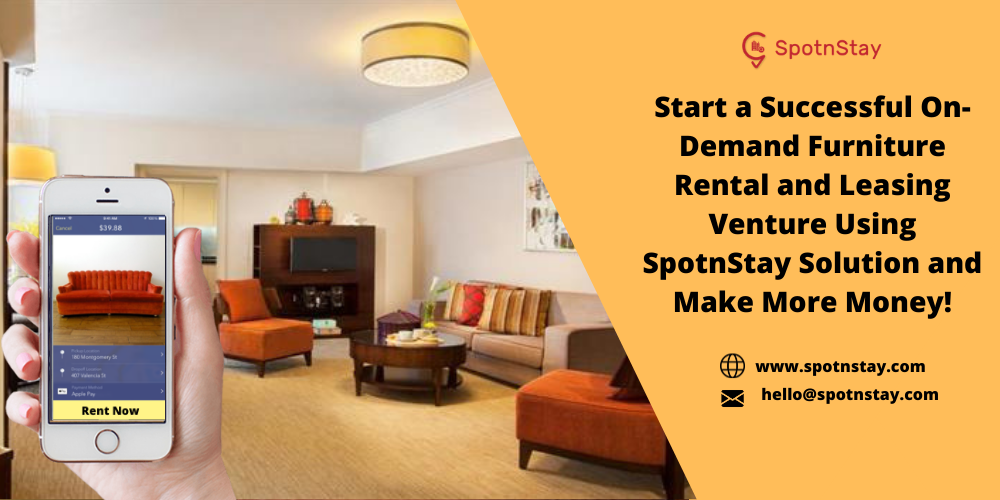 Is Online Furniture Rental and Leasing Business Idea is Profitable?
Furniture is a broad area and we cannot pick one or two and tell them as furniture. Starting from domestic use to office use, furniture is indispensable. Apart from home use, many entry-level startups who are using co-working places need furniture.
Leasing or renting them would be a great idea and it is not necessary that you should buy everything and list them online; you can also create an online marketplace platform and let third-party people list furniture for rent.    
Launch your own furniture rental platform using the on-demand models and help people realize their furniture dream at affordable rents.
Is this idea prospective? Do people really prefer renting over buying?
It is flexible
Rental is flexible; users can swap any furniture anytime and also extend the rental time. This is not the case with my own items. Also, there is an option to pay in installments. All the logistics part will be taken care of by the startup. 
Save money
A simple calculation would show that paying monthly rent for furniture saves more money than buying it. People nowadays have a lot of things to spend for and hence they prefer things that save money for them.

Maintenance
Some furniture requires regular maintenance and users can get it done free of cost when they rent online. Of course maintenance work is decided by the startup offering them but anyway they do it to differ from others.
Quick updates
When people want to update any items they can do it anytime using the rental platform instead of spending money on buying.
So by all counts the reception for online furniture leasing and rental will be fantastic. In a few years time we can see more millennials and gen Z in the workplace and they are more cost-conscious. Millennials and gen Z are found to be renting a lot more than previous generations.  
Getting an app solution for furniture rental
The scope is bright and you are gearing up to launch a rental startup if I am not wrong, then what next? If you think about the app solution development, then you are moving on the right path.
The furniture rental app for your startup comprises of three interfaces:
Customer app for online rental(iOS and Android)
Admin web dashboard for monitoring bookings and sales
Furniture owner app(iOS and Android)
Like I said before, you shall operate your startup by listing both third-party items and your own items. This helps you to consolidate a large market and make money from multiple revenue models.
It is better to purchase custom-built rental solutions from prominent vendors. SpotnStay is one such firm that specializes in making personalized solutions for online rental. 
SpotnStay furniture rental and leasing
SpotnStay rental solution for startups is made in-house from scratch; we had  Airbnb app as a reference while building SpotnStay; very high standards were maintained for SpotnStay to match its performance with top apps. Few startups in the furniture rental business sector have top-notch app solutions and we painstakingly studied them before making SpotnStay.
What edge do you get by using SpotnStay?
Do you have exciting ideas for your startup? Then SpotnStay can make it into a reality; our team is composed of skilled designers and programmers. Want to assist you anytime even after app purchase? We provide you with comprehensive long term assistance for free for some time; you can expect a quick response from us any time. 
Keeping the app updated and applying new advances is done seamlessly by our team. Complete source code is given to you after purchase and any updates are done only after your permission.
At present SpotnStay is offered at a discounted price with many benefits. Contact us for more details.
Final words!
The online furniture rental business sector is in its nascent stage and entering there at the right moment will be a game-changer for you! Gear up to get a complete solution from SpotnStay. Contact us anytime by tapping a message to [email protected]. Looking forward to discussing the startup plan.
Launch an Online Furniture Rental Booking Startup with SpotnStay: