Is your hotel located in the hotspot of the city center? Then, you must be well aware of how to attract corporate transient travelers to stay at your hotel? If not, then this blog is for you. 
Do you want to make the corporate transient travelers stay at your hotel? With the additional spending hours of guests in your hotel, let you gain extra revenue. And a strong potential can make your guest visit your hotel in return.
You're the lucky one, this blog will explain to you everything in detail about the corporate transient travelers and how to make them stay for a long period of time in your hotel. To do so, all you need is a well-developed software application for your hotel booking.
No worries. We SpotnStay is here to help you with a uniquely designed application that perfectly suits your hotel booking/rental business. Before going into the application, let me tell you what corporate transient travelers stay.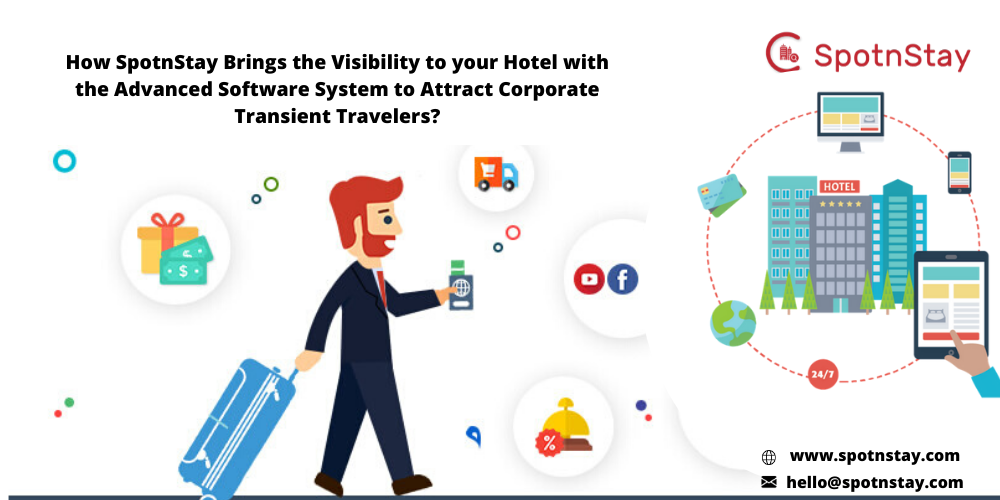 What Are Corporate Transient Hotel Businesses?
Always the hotel guests are categorized into types like group and non-group. The first case deals with the vocational guest and the non-groups are considered as transient travelers. These non-group people are the guests who are mostly on the move and they prefer a short period to stay in a hotel.
In simple words, non-group people are mostly business people who use to travel for their business. Such guests are mostly looking for more than a basic service like a clean and comfortable room for the night, and a nice breakfast in the morning. 
Normally every hotel room provided with a bath/shower, telephone and TV usually suffice for customers. For some overnight-staying guests, possibly a few hotels provide some available in-house hotel services, such as laundry and pressing.
The corporate transient traveler's reasons to book their trip are often to attend a conference, speak at a community, discuss with their deal partners, inspect a worksite, or to establish new business opportunities.
How to attract corporate transient travelers
Why should you attract business travelers to your hotel? This must be the question that might have appeared for everyone. Attracting business travelers can lead to an increase in occupancy rate, especially in the seasonal times when there are few room bookings left.
Offering corporate prices – Though business travelers use to travel all over the world, they will be expecting something best while staying at your hotel. When it happens, they extend their stay in your hotel.
Most of the organizations demand a stress-free package in your hotel. Does your application make it visible? If not, then it is the right time for you to shift your hotel to the best software application today.
Social media upgrades – Nowadays, nothing can be hidden from the internet. If your hotel doesn't have a social media appearance, then it is hard for business travelers to find your hotel service.
Business travelers use to keep themselves updated with their plans before scheduling their booking. So it is a must to have social media appearance, this allows them to check your hotel niche offers and discounts.
Increase the relationship with emails – While promoting your hotel brand and services, it is a must to check your targeted guests (business travelers). Since corporate travelers are most active in their emails, sending them pre-arrival.
Welcoming them with in-house and post-departure emails on a regular basis will help you engage with them and it increases a good relationship too. You can also make them aware of your services, promotions and extra offers you are also offering.
Make the Check-in and Check-out process simple and quick – For the business traveler, they want their time and schedule in quick and short. So there should be a speedy check-in and check-out in your hotel.
If your hotel booking software is still maintaining a paper check-in and check-out, then it will drag their time simultaneously. For a speed option, you should follow the paperless check-in and check-out. Besides that, you should give them the best guest experience for them.
Offers and Discounts – Discounts and offers are not only what your hotel is providing to them. You can also tie-up with the nearby restaurant or bakery by promoting their ads in your application. This allows them to choose your service more than others when you provide a worthy package.
To catch the attraction of business travelers, all you need is to focus on convenience, efficiency, and technology. This type of guest not only allows you to gain the revenue they will also bring other guests at your hotel doorstep.
SpotnStay corporate transient hotel booking management software
SpotnStay becomes the first option for all entrepreneurs in the hotel booking business. We provide you with a pro software application according to your hotel business model. Even if you are not aware of technologies or the features you need, it is not at all a problem.
Our team will lead you with it by going through your business model and the things that will take your business to the next level by taking more bookings. Have you ever come across hotel online applications where mostly everything will be the same?
The first impression is a must for business travelers. By considering that in our mind, we will be providing you a unique well-designed application. Here, let me tell you the features that make your guest stay longer in your hotel.
How SpotnStay helps you to make your guest stay longer
Most people will be checking your site for a maximum of 6 mins by scrolling and reading the rules and checking in and out.
Automated message – With our well-developed application, you can easily be in touch with your guests. This feature will clear their doubts in a short period of time by pre-made questions and answers where the guests are most FAQ.
Booking offers and discounts – Once the guest stays in your hotel for a certain (booked) time, and leaves at the right time but to make them extend their night or a day. The booking offers will be shown for the next day with discounts and freebies, etc will be shown automatically. It will make them extend their stay in your hotel.
Quick registration – The guest can easily register within a few seconds easily. We know that when the starting process takes so long the guest will be fed up with your service. By keeping that in our mind we made it simple by social media integration. This allows them to book their rooms quickly.
Multi-payments and multi-language – As I said before business travelers use to travel all over the world. To attract them with the multi-language feature helps to change according to their preference and to place the booking also made convenient by the list of options.
In-built chatbox – The in-build chat box allows the guest to interact with the host to clear their doubts. This is the opportunity to improve the customer experience at your hotel business by communicating with your hotel manager or the host.
Billing and payment history – Keeping the paper copy of all the hotel details like payments and booking history is a rigged job. This feature lets you know the history of all the bookings and payments of your hotel in digital form.
These are the few of the features in your application, once you join your hand with us. Our business lead will explain to you all other features that make your hotel business application more advanced.  
Final Say
The corporate transient travelers could be an excellent source for your hotel business. Once you attract one of them then you can easily gain revenue by filling the booking of the entire company.
Save your time and maximize your booking today with our software application. We know that every hotel business is different from one to another. That's why we recommend you talk with us by filling the below form or contact us today at [email protected] and we will catch you soon.
Build Your Corporate Transient Hotel Booking Management Software With SpotnStay: