Cities are now full of gas-guzzling vehicles which not only pollute the environment but also make mobility worse. It is sometimes funnily said that in some metro cities, movement in traffic is made in hours not in minutes. Such is the situation and it is expected to deteriorate more. Traffic congestion and air pollution are taking a huge toll on the health of its citizens. Not to mention that car usage is highly linked to obesity and heart problems. There is one way to tackle all these issues, using a green mobility solution. Bicycles are by far the most preferred green mobility solution; they don't pollute; easy to ride; cheap to maintain; affordable.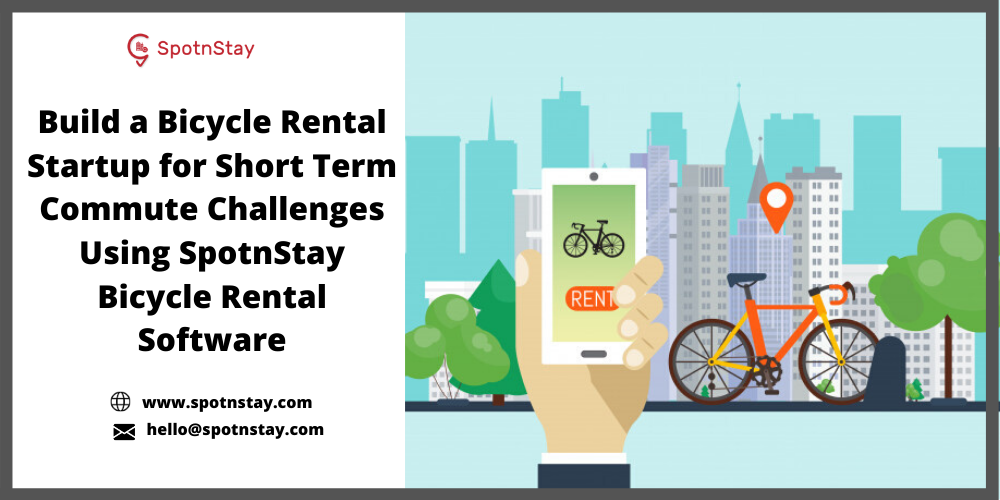 How SpotnStay Bicycle Rental Software Helps your Startup?
Bicycle rental startup
The pros of riding a bicycle can be linked to the never-ending problem of traffic and pollution using a business idea. A bicycle rental startup can be a great start if you are looking to become a tech entrepreneur. People like to ride cycles but taking them to all the places is not something they want.
So, a cycle rental using an app from anywhere in a city can be of much use to the civilians. They not only relieve people from congestion but also improve their health. Already few companies across the world have started implementing this idea. Yulu and Lime are the top players in the cycle rental domain.
How to build the cycle rental startup?
Fix a region probably a metro city and then find places where you can set up bicycle stations. After setting up the stations in important vantage points you shall start with the app development. Let us talk about app development later.
Using the riders app, the consumer shall locate the bike station and start using a cycle after paying the rent. Once the ride is over, you can either make it mandatory for riders to park in a station or leave it by the side. The former is preferred for an entry-level startup like yours because of the low maintenance.
Yulu and Lime follow the above-explained business model. The app for this startup is the most vital because it must be good enough for riders to easily locate and ride.
Yulu
Yulu is an Asia based sustainable mobility startup that has partnered with Uber and other bluechip companies for funding. They provide both bicycles and an electric bike for rental in the cities of their operation. In the cities they are operating, Yulu establishes cycle stations in many places and their cycles have GPS enabled locks with a QR code. Riders just need to book a cycle, reach a nearby station, scan QR code and enjoy riding. Yulu is constantly working to bring new innovation into their app.
Lime
Lime offers a micro-mobility solution in the cities of the US and Europe. With just three steps one can unlock a bike from Lime. Their rider and admin app are sophisticated since they have a slew of features.
Can a cycle rental startup transform as a good idea?
Smart cities are on the rise across the world and their aim is to transform a city into a pollution-free easy to move places. Governments are working with private groups relentlessly towards this smart city pursuit. By launching a cycle rental platform you can join hands with the respective governments and contribute to sustainability. Since yours will be a fabulous idea, the chance of getting monetary support is good.
With this startup you can help people get passive income by allowing them to attach cycles to your startup. So for every ride, some commission is sent to the users.
Corporates have big campuses and they look for some green mobility services for their staff to move inside the campus. Partner with them for an attractive cost to set up a station inside their campus.
Some important metro cities are planning to have a separate lane for cycle users. This is a boon for you and hence people have more interest in cycle riding. Just make use of this exciting idea.
App for cycle rental from SpotnStay
I hope you are convinced of this idea of cycle rental. The next thing to focus right after deciding to enter is the app development process. The complete app package for cycle rental comprises the rider app and admin app.
To save your time and effort, we have already made an app named SpotnStay. SpotnStay is a finely made rental app built with advanced technology stack for both iOS and Android.
How much does this cost? Can the app be updated in the future?
The base solution cost is a fixed one and any new additions cost extra. The customization of the solution to suit your requirements costs different for different needs. There is no hidden cost from us and everything is transparent. You can expect us to give a complete assistance package free for sometime and a nominal charge thereafter.
Wrapping up!
You can expect a Yulu or Lime like app from SpotnStay. No feature will be left in SpotnStay which is basic. Highly competent coders developed the app, so there is no worry about its performance and user interface.
Special attention is given to designs that match the latest trend and even first-timers won't find it difficult to rent a cycle. To get more details about SpotnStay, kindly send an email to [email protected]. We are eager to partner with you!.

Launch Your Bicycle Rental Startup with SpotnStay: